Vancouver House by BIG gears up for completion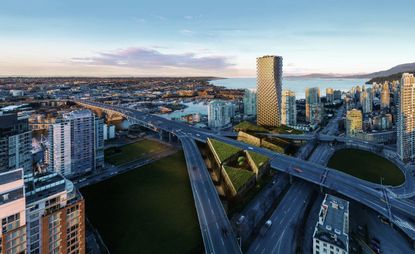 (Image credit: press)
BIG and Westbank are putting the finishing touches on their Vancouver House tower, which is due to receive its first residents this summer
Viewed from the north end of the Granville Street bridge, BIG's 150m twisting tower for Canadian developer Westbank, Vancouver House, seems to lean almost too close for comfort. Its expressive form – typical of the Danish practice's work – takes signature architecture to another level; yet project architect Vance Harris, of local partner Dialog, assures us that it's 'the safest place to be in an earthquake.' In 100 years from now, he says, it will still be standing.

Top notch seismic safety standards aside, gazing down from the 59th floor reveals a dazzling city that has seen a dizzying rate of construction over the past decade, and this tower, first commissioned by Westbank in 2010 when Ingels was a relatively young and not-as-well-known architect – has become a symbol of this.

The project cleverly reinvents the 'Vancouverist' tower and podium typology, transcending bridge setbacks and site constrictions with a narrow triangular floorplate that widens as it rises past the bridge level, reclaiming space and maximizing views, while three triangular retail, office and leisure complexes articulate the base. The Westbank website quotes Ingels saying, 'think of Vancouver House as a giant curtain, at the moment of being pulled back to reveal the world to Vancouver and Vancouver to the world.'
Luxury units in the sky can be reached through the city's fastest elevator; there's a soon to be materialised eighth floor swimming pool that will have walls of tropical hardwood; and a currently empty ground level, where commercial areas will soon include high end grocery stores. The scheme ends under the bridge, right where an installation by Rodney Graham – a spinning, shimmering chandelier – will make its debut this autumn.

Its curvilinear form – the result of 150m of subtle pixelation – rises from a thin triangular floorplate to a perfect rectangle at the top, with variegated floor plates creating enticing articulations throughout and offering a near sci-fi feel. Ingels says that in addition to City of Glass author Douglas Coupland, another Vancouver scribe who inspires him is science fiction writer William Gibson, whose Bridge trilogy series centres on a bridge that becomes a shantytown after an earthquake.

Vancouver House residents will begin to move in at the end of July. Next stop for Ingels and Westbank CEO Ian Gillespie is Calgary's Telus Sky – a kind of inverted twin to Vancouver House that tapers from a wide floorplate to a thin peak; and one of four projects the architect is currently working on for Westbank.
INFORMATION
For more information visit the BIG website
Receive our daily digest of inspiration, escapism and design stories from around the world direct to your inbox