Architects explore urbanism, heritage and power at Deoksugung Palace in Seoul
'Architecture and Heritage: Unearthing Future' organised by the National Museum of Modern and Contemporary Art Seoul unites imaginative installations by five international architects at the historic Deoksugung Palace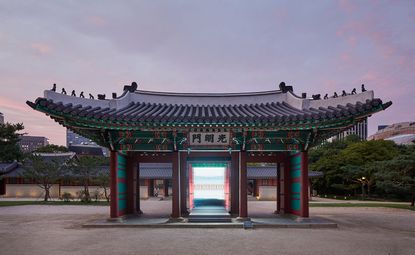 (Image credit: press)
In the heart of Seoul there is always some peace to be found within the walls of one of the Five Grand Palaces, built during the Joseon dynasty (1392 – 1897) to house the imperial families. Entering the ancient compounds is like stepping into another beautifully preserved era. At Deoksugung, the palace neighbouring City Hall and the National Museum of Modern and Contemporary Art (MMCA), during your visit you will find a few unexpected – and very much 21st century structures – have popped up between the traditional sweeping eaves and connecting courtyards.

From a floating video unlocking portals into imagined worlds, to a roving set of multi-functional furniture pieces, the installations enliven the palace grounds with ideas exploring the relationship between architecture, urbanism and heritage on the occasion of the centennial of the first Emperor Gojong's passing and the March First Independence Movement. While these events marked the start of Korea's modern era, rulers were still very much grappling with how modernity would sit alongside traditions and heritage of the past politically.

Curator Lee Jihoi enlisted the stellar group of architects – CL3, Bureau Spectacular, OBBA, Obra Architects, Space Popular – to envision 'a new interpretation of the Korean Empire's dream for future city on the brink of modernism'. This imaginative framework provoked questions also relevant to today such as, how can the past and present exist in harmony together?
Even in the face of remarkable amounts of change from the Joseon era until today – invasion, industrialisation, westernisation – the palaces maintained their stoic presence in the city. With this in mind, the idea of 'transition' was a starting point for CL3 Architects, and the theme was also relevant to us now, in the context of mobility, displacement and migration.

William Lim, founder and chief architect of CL3, designed a set of furniture on wheels for Gojong, the last King of Joseon and the first Emperor of Korea. Mixing cross-cultural references – the common push-cart seen in many Asian cities meets a Palanquin imperial carriage, Le Corbusier-designed furniture meets traditional Korean furniture – the roving set features everything from a chaise lounge to a garden storage unit, and is fully equipped for an era of instability.

Space Popular, Frederik Hellberg and Lara Lesmes, became absorbed in the rich architectural ornamentation, colourful painted timber and stucco decoration of the palace, and its imperial role of communicating an aura of splendour and power to its audiences. At the Gwangmyeongmun Gate, which played an important role in this spectacle, their site specific video installation plays out, leading viewers through a series of 1:1 gates. The portals open up and traverse from an imperial interior, to a modern-day chat room, opening and closing each time to reveal an even more surreal space.

The architects compare the draw of this historic gate and its capacity to communicate to society through architecture, to the television screen of the 1950s, and now the screens in our pockets, the feeds and the VR goggles through which we enter virtual worlds each broadcasting their own ideas. Packed with technicolour, pattern and animated objects, the work concludes that while the tools with which we communicate might change, our nature as humans, with an innate need to express ideas with the visual objects around us, stays the same.
INFORMATION

'Architecture and Heritage: Unearthing Future'; until 11 April 2020.
mmca.go.kr (opens in new tab)
spacepopular.com (opens in new tab)
cl3.com (opens in new tab)
perpetualspring.org (opens in new tab)
obraarchitects.com (opens in new tab)
ADDRESS
Deoksugung Palace
99 Sejong-daero
Jeong-dong
Jung-gu
Seoul
South Korea
VIEW GOOGLE MAPS (opens in new tab)
Harriet Thorpe is a writer, journalist and editor covering architecture, design and culture, with particular interest in sustainability, 20th-century architecture and community. After studying History of Art at the School of Oriental and African Studies (SOAS) and Journalism at City University in London, she developed her interest in architecture working at Wallpaper* magazine and today contributes to Wallpaper*, The World of Interiors and Icon magazine, amongst other titles. She is author of The Sustainable City (2022, Hoxton Mini Press), a book about sustainable architecture in London, and the Modern Cambridge Map (2023, Blue Crow Media), a map of 20th-century architecture in Cambridge, the city where she grew up.