MoDus Architects designs a tree-hugging tourist office in Northern Italy
A new, sculpturally concrete tourist office in the northern Italian town of Bressanone wraps itself around an existing Platanus tree to a design by South Tyrol based architecture practice MoDus Architects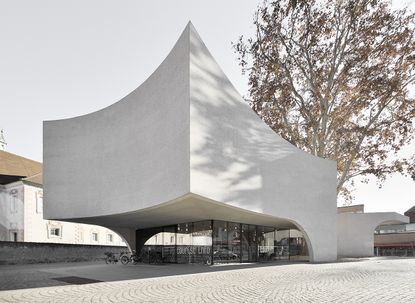 (Image credit: Oskar Da Riz)
In the tiny northern Italian town of Bressanone, just outside the medieval city walls, a new concrete structure can be found attempting to hug a tree. The building is in fact a tourism office, designed by local studio MoDus Architects.

Situated between Innsbruck, Lake Garda and the mountain range of Cortina d'Ampezzo, Bressanone, with a population of less than 22,000, serves as a convenient location for tourists destined for the Dolomites. Prior to MoDus' intervention, a tourist pavilion from the beloved, late, local architect Othmar Barth occupied the site from the 1970s and before that a modernist structure from the 1930s and before that, a 19th Century loggia.

The destruction of these three precursors, is, according the architects, a series of 'architectural homicides to which their building is the latest episode of. 'Historical images reveal a collection of eccentric and rather remarkable pavilions that have met their unfortunate demise through their demolition in order to make way for the next 'victim',' Sandy Attia, co-founder of MoDus says.

This pessimistic view hasn't hampered the architects, though. Instead, the new tourism office takes cues from all three predecessors and its locale. 'The building [was] first conceived as a pavilion, or more specifically as a kind of folly, drawing from the small Chinese and Japanese pavilions that mark the corners of the Bishop Palace gardens nearby,' added Attia.
The biggest influence on the design, however, is arguably the large Platanus tree, which the building wraps its concrete form around and gives the project its quirky name: TreeHugger. Using the tree as a fulcrum, five arches span the building's perimeter and support the structure. Inset windows and a large, if somewhat ominous cantilever, protrudes out to a new town square, marking the building's entrance.

The ground floor is almost entirely glazed and here tourist information booths and large media screens can be found along with an internal public space used mainly for coordinating tourist groups. Offices for tourist association employees have also been tucked into the back of the ground floor plan, while the top floor hosts a conference room, kitchen and more offices for the tourist association, the tourism office's director and others, which can be rented.

To encase this program in an unorthodox plan — totalling 430 sqm — the architects opted for concrete, a material fellow co-founder Matteo Scagnol argues was able to collapse the 'structure and facade into one, single architectural element.'

Furthermore, the concrete is a bush-hammered, blast furnaced concrete made with aggregates and crushed stone from the nearby Brenner Base Tunnel project (an Austria-Italy railway tunnel due for completion in 2021). While the architects talk tongue-in-cheek about 'victims' and 'architectural homicides' one hopes, for the sake of sustainability at least, that TreeHugger lasts a good deal longer than what came before it.
INFORMATION