Letter from Washington DC: the projects getting the green light in a city of red tape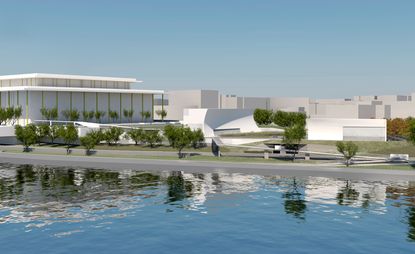 (Image credit: TBC)
Every presidential election throws Washington DC into demographic flux. Politics aside, though, the city is also welcoming young families and graduates by the trainload as it gradually repositions itself as a great all-rounder of a place. With breakneck gentrification and a foodie revolution introducing Washingtonians to New York-style living, you'd think the city fabric would be turning itself inside out.

Yet it's remarkably difficult to get things built here. Red tape is a fact of life, as are conservative old-timers galvanised against change. It took a new baseball franchise to kickstart the redevelopment of the crumbling Navy Yards, and David Adjaye's lauded National Museum of African American History and Culture, which opened last year, was a century in the making.

In a bureaucratic city characterised by government office space, local designer/developer Brook Rose saw potential in a rare landmark warehouse once used to manufactured some of the first rotary gyrocopter engines. Meanwhile, New York architect Steven Holl's Obama-era infrastructure project will open in much less certain times, no less for the arts. Two blocks south of the National Mall, Detroit-based SmithGroupJJR has transformed a landmark transport warehouse into a museum to rival the Smithsonians in splendour.

What does go up tends to be overwhelmed with mirrored glass. Yet there are exceptions. While planners have greenlit a redesign of Constitutional Gardens by Rogers Partners and PWP, as well as a delicate glass office complex by REX Architecture, there have been a handful of exemplary projects come to fruition.
Receive our daily digest of inspiration, escapism and design stories from around the world direct to your inbox