The changing face of Tijuana's art and architecture landscape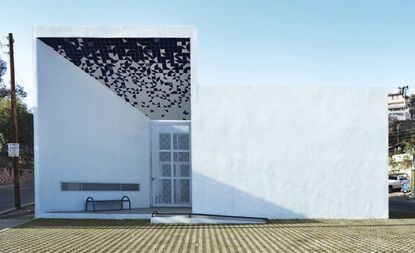 (Image credit: press)
Tijuana, the Mexican border town south of San Diego, has had, until recently, a reputation as a lawless enclave of vice and drugs (opens in new tab), a destination for debauched American tourists and the turf of violent cartels. Despite dwindling tourist numbers and high crime rates - which spiked in the late 2000s - the city's creative class has been keeping busy, and its rising stars in architecture and cuisine are now earning international attention. In recognition of a rash of bold new buildings and cultural initiatives across the city, the LA-based gallerist Steve Turner recently launched Art Baja Tijuana (opens in new tab), an annual festival of contemporary art.

Its first incarnation may have been modest in size, but Turner hopes to attract international collaborators in the future, and is planning to host festival events in various architecturally remarkable buildings around the city each year. For its inaugural outing, the main exhibition took place in a new residential house designed by Jorge Gracia, one of the city's most exciting architects.

Some of the artists involved in the festival, such as Petra Cortright and Fabiola Torres-Alzaga, were chosen from Turner's gallery roster; others, such as New Yorker Aaron Aujla, were picked for their relevance to the show's architectural theme. New talents included the emerging LA-based sound artist Tyler Adams and the Tijuanan street artist PANCA. All showed new work, some of which, like Pablo Rasgado's installation 'Anulación', was specially commissioned. Across town from Casa GS, Rasgado had sealed the windows and doors in a derelict pharmacy to transform the building into a giant, site-specific sculpture.

In tandem with Art Baja Tijuana, a food and architecture tour took us on a journey around notable buildings across the city. The first stop was the striking extension to CECUT - the Centro Cultural Tijuana - designed by Eugenio Velázquez in 2008. The giant sphere of CECUT's central IMAX cinema, built nearly 30 years ago, has become one of the city's landmarks, alongside its 200-foot steel arch (which replicates St Louis' Gateway Arch in the US) erected to celebrate the millennium.

Aside from some impressive Spanish Revival architecture dating from Tijuana's heyday as a gambling capital in the 1930s, much of the city seems unplanned and carelessly constructed. Many residential neighbourhoods grew from temporary migrant settlements, especially after the devastating Mexico City earthquake of 1985. Gracia says he sees Tijuana today as a blank canvas; there is plenty of cheap land, low labour costs, few building regulations and clients are open to experimentation. 'It's like a lab,' he says. His elegant Culinary Art School building, now three years old, combines affordable materials such as rusted steel, poured concrete and garapa wood.

The poor Camino Verde neighbourhood has been particularly afflicted by gang violence. A new community centre, designed by Ramón Guillot, and an award-winning digital library known as Casa de las Ideas, by CRO studio, are both sited on reclaimed land between two gang territories, next to a new park, outdoor gym and skate-park.

At the other end of the economic spectrum is Guillot's 14-floor office building, VIA Corporativo. It is Baja California's first LEED-certified, 'green' building, and also contains the high-end restaurant Mision 19, run by Tijuana's acclaimed chef Javier Plascencia. The marriage between gastronomy, architecture and art promises to drive Tijuana's future, as new businesses open, the art fair raises its profile and culinary empires - such as Plascencia's - continue to grow.