Treehouse meets Japanese teahouse at Hombroich rocket station in Germany
Japanese architect Terunobu Fujimori has installed his latest environmental teahouse in a tree at the Museum Island Hombroich. The Ein Stein Haus, or One Stone House, inspired by Zen Buddhism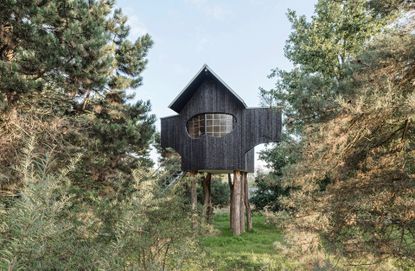 (Image credit: Hertha Hurnaus)
Terunobu Fujimori's teahouses literally grow on trees. The Japanese architect builds poetic sites of ceremonial encounters into the forks and onto the trunks of trees. Now the 73-year-old is inviting fans of environmentally-aware modern architecture to tea at the Hombroich rocket station.

Gliding through the pine trees, a winding path studded with single stone slabs end up in a small clearing. Look up, and there it is – the latest teahouse by Japanese architect Terunobu Fujimori. At three metres high, sitting on stilts and made of pitch black Robinia wood, the treehouse is reached by 19 steps within a narrow metal staircase. It was specially designed for the Hombroich Rocket Station, Europe's first permanent, now disused, NATO missile base, which was adapted into an art project by collector Karl-Heinrich Müller in 1994.

The black colour of the teahouse façade is a result of the carbonisation process of the wood. 'The traditional method, by which the wood is blackened by subjecting it to a few minutes of fire, is called Yakisugi and is typical for Fujimori's work,' says Frank Boehm, the curator of the project and the accompanying exhibition. 'It protects the wood from the weather and damage by insects.'

In the oval of the interior, the walls are panelled with oak. Any geometric formality is broken up, and a trompe-l'œil effect makes the roof appear to curve inwards. Traditionally, Japanese teahouses are laid out with tatami floor mats, but here visitors sit on an organically-shaped bench in a semicircle. Before them, the hearth for tea-making is inset into the table.
As usual, where possible Fujimori uses natural materials. Everything appears to be handmade expressing Wabi-Sabi, the beauty of the irregular, which is a design principle of the master builder. A kidney-shaped sliding window opens to the south with handmade, leaded windowpanes. It reveals an unobstructed view of three large pine trees and the Lower Rhine landscape beyond.

'When designing teahouse architecture, you have to create a separate world that is distinct from everyday life. The key is to let something float above the ground,' says Terunobu Fujimori. Like the traditional Japanese teahouses, his buildings serve as places of contemplation and cultivated encounters, yet Fujimori's designs undermine every architectural canon.

You can search in vain for straight lines and coherent geometries in his work. Instead, he uses pencils and crayons to draw surreal, fantastic buildings that could have been lifted straight out of an anime film, a Hieronymus Bosch painting, or even a Gallic village. His works echo rustic dwellings, perched precariously in the forks of trees or on high stilts. It is almost as if this free-spirited man is fulfilling his childhood dreams through designing escapist tea-tree-houses.
Fujimori, who is one of the most significant architectural historians in Japan, did not begin working as an architect until 1990. Yet in the last three decades, he has constructed about one or two buildings a year, including numerous tearooms and teahouses. These have been mostly for private clients, including his first teahouse Ishiya-tei (House For One Night) for the former Japanese Prime Minister Morihiro Hosokawa. 'After its completion, for the first time, I didn't want to part with a house,' Fujimori says, recalling the awakening of his passion for building teahouses.
As a result, he started to build three teahouses on his own property in Chino, Nagano Prefecture: Takasugi-an, the Too-High Teahouse, Hikusugi-an, the Too-Low Teahouse and Soratobu dorobune, the Flying Mudboat. Today, there are about a dozen permanent teahouses worldwide, and no two are alike. 'Because of their distinct personality, teahouses have something human-like about them. That's why they have names like people,' says Fujimori, showing evidence of his wry humour. He christened the teahouse on the island of Hombroich the 'Ein Stein Haus' (One-Stone-House). The idea of a single stone has a special meaning in Zen Buddhism, in which it symbolises an island around which waters rush, providing peace and harmony. At the same time, his first permanent teahouse in Germany is a homage to the great German physicist of the same name, Albert Einstein. Now visitors can reflect on their own philosophical outlooks, while sipping Matcha tea and floating above the world, as if detached from gravity, space and time.

In the teahouse, says Fujimori, there is no hierarchy and no status. This has been true in Japan for thousands of years. Whether samurai, merchant or farmer, in the teahouse everyone sat at one table and was treated as equal. Fujimori likes this idea. But he wants more – he not only wants to bring people closer together, but also to bring them closer to nature. With his deeply-rooted lightness of touch, in Hombroich he has pulled it off once again.
INFORMATION
The accompanying exhibition ends on November 29, 2020
inselhombroich.de (opens in new tab)