A Swiss art kingpin creates a sharp-edged complex for his uncommon collections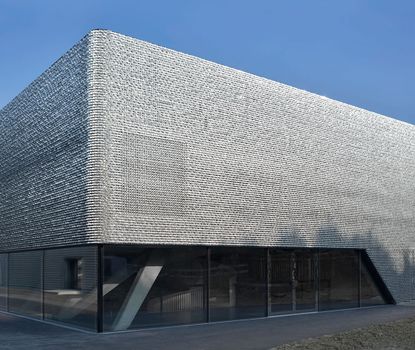 (Image credit: Leo Fabrizio )
Wallpaper* Newsletter
Receive our daily digest of inspiration, escapism and design stories from around the world direct to your inbox
Thank you for signing up to Wallpaper. You will receive a verification email shortly.
There was a problem. Please refresh the page and try again.
For anyone who knows even a little about the 20th-century art business, Bruno Bischofberger needs no introduction. One of the most important art dealers of the age, he is best known for his involvement with Andy Warhol and Jean-Michel Basquiat, but he also dealt with Julian Schnabel and Jean Tinguely, brought Gerhard Richter to the international stage, and was one of the first to show pop artists such as Jasper Johns, Roy Lichtenstein and Robert Rauschenberg in Europe.

So far, so famous, but Bischofberger is not just a dealer of A-list art – he is also an extraordinarily avid collector of just about anything that catches his eye. He has been amassing treasure since childhood and his enormous collections (yes, plural) go way beyond late 20th-century art. Swiss folk art, furniture, glassware, ceramics, silverware, painted Alpine armoires, stone axe heads, fashion photography – Bischofberger owns thousands of beautiful pieces that have, until now, been stored in various depots, predominantly in his home town of Zurich.
Now 76, Bischofberger has been consolidating his collections since 2005 at a location on Zurich's so-called Gold Coast, on the sunny side of the lake. The 200,000 sq m site, a former hydraulics factory he bought 15 years ago, is gradually being transformed into a group of exhibition, office and storage spaces. Six have been built so far. The latest, the Designhalle, has just been completed. Another main storage space is under construction and a large folk museum is in the planning stages. It is a huge undertaking.

The gallerist considered various big-name Swiss architects for the task. His own house, a slate-clad, postmodern one-off designed by Ettore Sottsass in the 1990s, indicates his taste in architecture is no less avant-garde than his taste in art. In the end, he entrusted the task to husband-and-wife team Baierbischofberger Architects, led by his daughter, Nina Baier-Bischofberger, and his son-in-law, Florian Baier. This would sound like nepotism, and a gamble on a relatively inexperienced practice, but one gets the feeling Bischofberger is not driven by sentimentality when it comes to business.
Both architects came with credentials. Baier-Bischofberger studied engineering and architecture at MIT and Columbia in the US, and worked for Cecil Balmond at Arup. She also 'grew up in galleries' and understands the kind of environment art needs. Baier had a tech-heavy architectural education at TU Darmstadt in Germany, ETH Zurich and Columbia (where he met his wife). He worked for Asymptote Architecture in New York and Horden Cherry Lee Architects in London, before returning to Zurich with Baier-Bischofberger to set up practice in 2005. Early projects included two exhibition spaces for the Grieder Contemporary gallery and a loft conversion in Küsnacht.

Bischofberger's trust has paid off. The 'Factory' site, as Baier calls it, houses an extraordinary set of buildings, each converted beyond recognition from a former industrial shed. The most striking aspect is the facades. Three buildings' exteriors are in concrete, twisted and poured into shapes that stretch the boundaries of material credibility. The other three are clad in aluminium or steel, laser cut, punched, bent and tessellated into three dimensions. 'What we have done with these buildings is re-dress them by taking textile analogies and reinterpreting them in construction materials,' explains Baier-Bischofberger.
The Designhalle is a two-storey exhibition space for the decorative arts collections. Sheathed in a haute couture coat of shiny stainless-steel strips, laser cut and folded outwards by a purpose-built precision machine, it's quite an eye-catcher. The architects call it their 'hairy building'. 'It is a summer evening, it looks like a sequined dress,' says Baier. Inside, the building is waiting to be filled with treasures, so for the moment it is the architecture that draws the attention. The lower floor is one huge space, starting below ground. A ground-level glass facade wraps around one side, allowing northern light to pour into the space across a dramatic row of V-shaped columns, which Baier-Bischofberger says were inspired by the work of Italian architect and engineer Pier Luigi Nervi. They lend a fantastic dynamic to the rectangular hall, while a row of softly lit, giant display cases fills the 'found spaces' in-between their bases. The rest of the hall is pretty much empty, allowing space for whatever Bischofberger chooses to exhibit. It is punctuated only by a pair of broad spiral staircases in pale concrete and maple.

The symmetry of the organisation in the Designhalle also allows maximum flexibility in terms of where the actual entrance to the building is – and there are three options. This reflects what has been the greatest headache for the architects: the big picture. 'Our client isn't very interested in master-planning,' says Baier. 'In the beginning it was very frustrating because he would say, "We'll do this and then I will think about what I need next." But then we got used to it and thought, OK, this is more organically grown, a bit like a city.' As a result, the entire Factory site has the choice of two main entrances, east and west, and every building has at least two entrances, with options for more, should Bischofberger later decide he wishes them to connect or function in different ways.
The spiral staircases of the Designhalle both lead to an upper floor, which is far more domestic in scale, with pitched roofs, skylights and off-white walls, like an exaggerated attic space. 'We have visualised a more interior type of exhibiting here,'says Baier-Bischofberger.

The most interesting aspect of the campus, apart from what the buildings contain, is that they represent a meeting of the parametric and the pragmatic. 'We are the generation that started out inking drawings and graduated on computers,' says Baier. 'Technology has only recently allowed a shortcut for architects; now we can try out things that seemed impossible a very short time ago.' What he means is that the data the architects generate in the 3D design model (after much testing with physical models) can go directly into the production process as patterns for the formwork.
Another thing the architects are obviously good at is challenging suppliers and craftsmen to help them find ways to construct their 'impossible' designs. 'Once you get people out of their comfort zone and offer up your own as well, then you can get them excited and motivated,' says Baier. 'When you get everybody on board is when it gets really interesting, because you arrive at new results you do things that are exciting and everybody is then proud of them in the end. That's a very beautiful space to work in, if you are able to create it.'

As originally featured in the December 2016 issue of Wallpaper* (W*213)
INFORMATION
Public access to the Designhalle to be announced. For more information, visit the Baier Bischofberger Architects website and Bruno Bischofberger's website
Receive our daily digest of inspiration, escapism and design stories from around the world direct to your inbox