Studio Milou gives the historic Carreau du Temple in Paris a new lease of life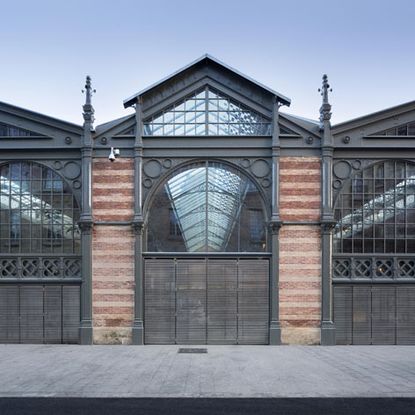 (Image credit: Jules de Mérindol)
Throughout the history of Paris, Upper Marais has seen an impressive succession of buildings. It has been the site of the Knights Templar's medieval fortress, used as the Royal family's prison during the French Revolution (opens in new tab); an 18th century Rotunda, belonging to the Order of Malta and including high-end shops; and finally, it hosted several wooden pavilions built in 1809 housing a large flea market, and later replaced by sleek iron constructions under Baron Haussmann. Two of the six pavilions have survived, after being saved in 1976 by local activists who campaigned against them being torn down for the sake of a carpark.

Listed as a historic monument soon after the demolition of the famous Grandes Halles - a major iron-and-glass oeuvre by Victor Baltard - today's Carreau du Temple, set to reopen at the end of April, is an exemplary project. Its new purpose as a mixed-use sports and cultural facility was defined by a public vote. Paris-based architecture practice Studio Milou (opens in new tab) - specialists in the adaptive reuse of heritage buildings - seamlessly integrated contemporary acoustic and insulation standards into the 19th century framework.

For lead architect Jean-François Milou, it was both a professional challenge and a matter of principle. It is, he says, 'a technical demonstration that Baltard's Halles could have been perfectly maintained.' The refined iron structure was faithfully restored to its original design. Brick infills were replaced by glazing, so that the transparent façades flood the Carreau with natural light and open it to the curious eyes of the passers-by.

The flexible interior, complete with mobile partitions and retractable stands, allows the hall to be reconfigured for everything from community events to trade shows and artistic performances. Moreover, the Carreau is set to become the centre of Paris' new fashion district and a bustling destination during prêt-à-porter weeks.

This will continue the Carreau's long-standing connection to fashion - a connection hailing from the times when the Order of Malta's privileges allowed local merchants to sell costume jewellery and Indian print cotton prohibited elsewhere in the country, and reaching well into our times when Yamamoto, Galliano and Dior Homme catwalked their collections under the old market's zinc roofs.
ADDRESS
Carreau du Temple (opens in new tab)
2 rue Eugène Spuller
75003 Paris
VIEW GOOGLE MAPS (opens in new tab)