Redesigned Greek retreat opens up to its spectacular setting
Architecture studio Neiheiser Argyros creates a calming Greek retreat, a redesigned modernist house in the village of St Minas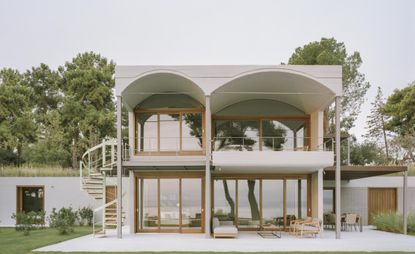 (Image credit: Lorenzo Zandri)
Anyone who had the chance to stay in this calming Greek retreat, an architectural escape near the village of St Minas, would have admired its views overlooking the Euobean Sea. London- and Athens-based architecture practice Neiheiser Argyros took the views into account and found a way to improve upon them when it renovated the house, which was originally designed by Greek architect Nikos Hadjimichalis in the 1970s. The original modernist structure, which was always focused towards the sea, has now been reconfigured to take in beauty in all directions, from the bright, turquoise waters to the surrounding landscape.
Neiheiser Argyros didn't shy away from cutting large new openings into the original structure, and extended the space outdoors. However, the house has kept many of the original modernist details, complemented with playful new additions. The exposed concrete of the structural walls and ceiling are harmonised by exposed brick, wood windows, custom terrazzo floors, perforated aluminium cabinets, and built-in upholstered furniture throughout.
Greek retreat that celebrates the sea
From the approach road, the house seems to disappear into the surrounding olive groves and pine forest, respecting the client's privacy. Yet it opens up across two storeys to embrace the full extent of the seafront views on the other side. Also for privacy, some bedroom spaces are tucked into the existing slope of the landscape.
In order to celebrate the sea, two concrete arches orientate the main living spaces towards the mesmerising waters. At the same time, the extensive terraces around the house create a multi-level network of outdoor living rooms
Neiheiser Argyros' strong commitment to creating territories, environments, and objects with social and cultural resonance has been highlighted with this redefined house. The practice took this opportunity to open a dialogue with the house's history and surroundings, elevating the design to a calming environment that converses with nature on all fronts. Meanwhile, a serene interior with a minimalist approach to detailing offers a haven for relaxing.
'On a spectacular site overlooking the Euboean Sea near the village of St Minas a mix of raw and refined materials combine to create a unique summer house that opens up to the landscape in all directions,' say the architects.
INFORMATION
neiheiserargyros.com (opens in new tab)