Space invader: the Sydney Opera House launches its new digital lounge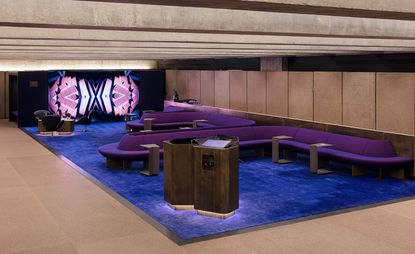 (Image credit: Felix Forest)
Welcome to the Bat Cave. Danish architect Jørn Utzon and the superhero franchise seem unlikely bedfellows, but The Lounge, a newly appointed digital hub located in the refurbished western end of the foyer deep within his monolithic Sydney Opera House, draws uncanny parallels. Like the masked crusader's command zone, it too is a communication conduit informing visitors (some 8.2 million per year) of the performing art centre's extensive history and programming through interactive displays.

Designed by Tim Greer, director of Tonkin Zulaikha Greer Architects (also behind the redesign of the House's Bennelong restaurant), it is the most recent launch in a series of future-facing projects enabled by The Opera House's principal partner, Samsung. It forms the first stage of the building's 'Decade of Renewal' plan to upgrade its facilities. 'With Samsung's support, we have a wonderful opportunity to trial the latest technology while creating a more welcoming environment for visitors to enjoy day or night,' enthuses Sydney Opera House CEO Louise Herron, regarding its simultaneous function as a café and bar.
Pools of deep cobalt blue carpet animates the dark, low-ceilinged space tautly bound by poured horizontal concrete spokes. 'Disappearing into the ground, it is the antithesis of the white shells meeting the sky,' offers Greer. A sinuous purple Moroso sofa flecked with electric blue snakes around its perimeter, whilst custom-designed brass side tables with forked tongue grooves further reference its slick serpentine nature. Beyond, creative director Sam Doust's kaleidoscopic explorations of the House's stories emanate for a mesmerising LED wall amid churning robotic surround sound.

A collection of over 50 interactive online stories featuring past performances, rare archival images and drawings, plus interviews can be explored on Samsung Galaxy tablets and a free-standing brass pod housing larger screens with headphones. But it's the virtual reality headsets that steal the immersive drama. Visitors can experience the most exclusive tour in Sydney — a giddy climb through the Opera House to the top its of its tallest sail (at 65 metres). The sensation of the gravitational pull as it plummets down to the Harbour's water produces the ultimate climax, stomach flip and all!
INFORMATION
For more information, visit the Sydney Opera House website
ADDRESS
Sydney Opera House
Bennelong Point
Sydney NSW 2000