The wait is over: Snøhetta's new SFMoMA addition is about to open its doors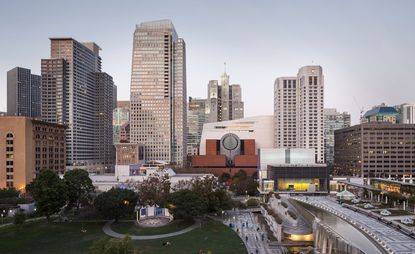 (Image credit: Henrik Kam, SFMoMA)
After three years of waiting, the time has arrived. The San Francisco Museum of Modern Art (SFMoMA) is getting ready to kick open the doors to its ten-story expansion by the architecture firm Snøhetta on 14 May.

The Bay Area's fog and water inspired the new edifice's sweeping and sinewy east facade, made with 700 uniquely molded, fibreglass-reinforced polymer panels. The silvery structure is a stark departure from the red brick-ensconced existing building, by Mario Botta.

'Buildings are like dancing partners,' says Snøhetta co-founder Craig Dykers. 'You don't want to repeat what the other is doing because you'll step on their toes.' The two structures are connected by a seismic joint that visitors can see through glass viewers, but the boundary doesn't draw attention to itself, as the two buildings flow as one without obvious demarcations. Moving between the buildings, Dykers says, 'shouldn't be a jarring experience, but the museum-goers will have some awareness'.

As opposed to the formally predictable symmetry of Botta's design, for instance, the new building features more versatile exhibition spaces. (Check out the room in the new wing displaying Agnes Martin paintings, which curators configured to be an octagonal space.)

At 235,000 sq ft, the Snøhetta addition more than doubles the museum's total space. But the new landmark weighs less than the old structure by employing materials like lightweight cement and sand from nearby Monterey Bay. On track to receive LEED Gold certification, the new gallery spaces use energy-saving ambient LED lighting tucked above undulating ceiling panels calibrated to avoid light scallops.

Other notable features include six outdoor terraces, including the second-floor sculpture gallery that exhibits works by Alexander Calder against America's largest public living wall by Habitat Horticulture, consisting of over 19,000 plants including 21 native Northern Californian species.

Spatial and metaphorical openness is among the most emphasised elements, with 43,000 sq ft earmarked for free access. Two entrances on different streets allow pedestrians to pass through the museum's ground-floor spaces, including a glass-fronted gallery inaugurated with Richard Serra's 235-ton sculpture Sequence. SFMoMA will soon be open, in every sense of the word.
INFORMATION
For more information, visit Snøhetta's website
ADDRESS
San Francisco Museum of Modern Art
151 3rd Street
San Francisco, CA 94103