Saving the modernist architecture of Louis Kahn's IIM Ahmedabad dormitories
Noor Dasmesh Singh (architect, urbanist and principal of award-winning NOOR Architects Consultants based in Chandigarh, India) discusses the threat posed to the dormitories at the Indian Institute of Management Ahmedabad and Louis Kahn's modernist architecture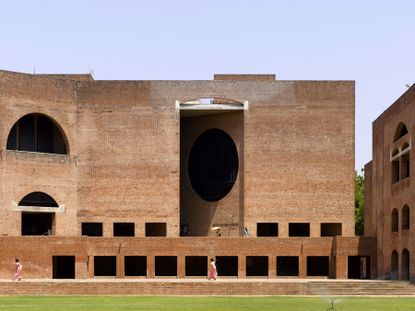 (Image credit: Edmund Sumner)
As a World Heritage preservation controversy brews, the administration at the Indian Institute of Management in Ahmedabad (IIM-A), just a short time ago, was set to proceed with its plans to raze 14 out of the 18 dormitories in Louis Kahn's modernist architecture complex for the Indian school. A row kicked off as the design community and citizens initiated a campaign against the decision of the management. It got support from global organisations and individuals including Pritzker Prize laureates, the Council of Architecture in India, MoMA and the World Monuments Fund. Consequently, the management decided to put the demolition on pause for now.

In the Americas, Kahn is known for masterpieces, such as the Salk Institute in California, Philips Exeter Academy Library and the Kimbell Art Museum in Texas. In Asia, major works include the National Assembly Building in Dhaka, and the IIM-A campus is widely considered one of his finest contributions. The campus, built between 1962 and 1975, has a distinct modernist sensibility with its geometrical openings and sculptural monolithic brick structures. Brick is matched by concrete bracing elements. Kahn drew inspiration from historical treasures, such as the 15th-century palaces of Mandu in India and the brick cylinders of Albi Cathedral in France.

It is unfortunate that, as per current Indian laws, only buildings over 100 years old can be defined as 'heritage'. Anything less than that doesn't have legal protection against alterations or even demolition. It is high time the Indian legal ambit is revised to include structures of significance under the 100-year-old cap as well. This will protect similar modernist architecture jewels in the country, such as Le Corbusier's Mill Owners' Association Building in Ahmedabad and his buildings in Chandigarh (although the latter at least lie in a protected zone due to their Unesco World Heritage status).
In 2016, well-regarded Indian practice Somaya & Kalappa Consultants (SNK) undertook restoration of one of the worst-affected dormitories. This was taken up as a 'trial' conservation job after SNK won a competition to restore Kahn's campus. Two years and a painstaking restoration process later, works had reconstructed 85 cracked brick flat arches on the eastern façade and upgraded reinforcement bars; yet this did not convince the IIM-A management to carry forward the engagement to the remaining dormitories.

On 23 December 2020, IIM-A director Errol D'Souza published an 11-page letter elaborating on the reasoning behind the decision to demolish, stating that while the school is doing 'all it takes' to preserve the complex, 'for a few of the dorms, there will be a new history'. He assured readers that any new buildings will ensure a relationship of continuity with the surrounding modernist architecture by Kahn; but that as things stand, 'students hardly use these shared spaces, as they have gravitated to virtual modes'.

Questions are therefore raised on the management of the institution. As temporary custodians of Kahn's work, is it right to tamper with a shared cultural legacy of such stature? Was the outcome of the preservation job not satisfactory? SNK was given a Unesco award in 2019 for its earlier restoration works carried out at the same school's library block. And who is responsible for the levels of deterioration the dormitories reached in the first place, to allow for this course of action to even be considered? The Indian architecture community – and as an architect and urbanist of Indian origin, I am part of this problem – needs to step up and protect the legacy that we inherited from our past.

For now, the outcry forced the institution to put on hold the online bidding process that would select an architect to build in the great modernist master's footprint. It is heartening that Kahn's children, Sue Ann Kahn, Alexandra Tyng and Nathaniel Kahn, have also expressed their shock at the development by writing to D'Souza. Raising public awareness may be one way of temporarily holding back further action, but surely legal and policy measures are need to avoid such misadventures in the future.