Eccentric houses in Southern Puglia offer a new take on modernity
Discovering a sense of freedom from form in Southern Puglia, Salento Moderno documents a distinct breed of Italian houses with an imaginative and anarchic approach to architecture.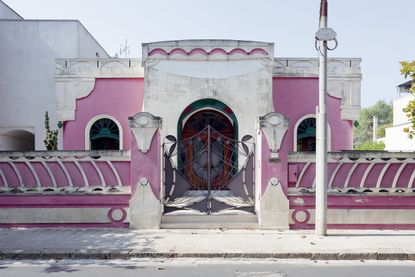 (Image credit: Antonio Ottomanelli)
Wallpaper* Newsletter
Receive our daily digest of inspiration, escapism and design stories from around the world direct to your inbox
Thank you for signing up to Wallpaper. You will receive a verification email shortly.
There was a problem. Please refresh the page and try again.
A survey of eccentric houses in Southern Puglia is the topic of a new photographic book organised by the Capo d'Arte and an editorial team of Italian academics, curators, researchers and photographers. The so-called 'Salento Moderno', the unique neo-vernacular of spontaneous and aesthetically anarchic houses built since the 1950s in the Salento area, is documented and explored through photographs and essays.

These houses caught the attention of Italy when they were the topic of an online story by a national Italian newspaper in 2014. The story was followed by a flurry of comments on whether the houses were 'horror shows' in the landscape, kitsch in a good way, or kitsch in a bad way.
'Those images, with their long list of comments, inevitably influenced what we intended to do and what we would actually do over the years to come,' writes editor Davide Giannella in the book, former director of Capo d'Arte – the art foundation is located on Salento Moderno territory in Gagliano del Capo, the last town on the No.16 Adriatica state road, which ends in Santa Maria di Leuca.

'I still remember feeling outraged while looking at those weird façades and golden doors. But then we realised there was a whole world, a society, a soul behind those choices, and that they were worth investigating,' says Francesco Petrucci, founder and current director at Capo d'Arte.

The editors of Salento Moderno, wanted to present a new way of seeing these houses. The team – made up of Massimo Torrigiani, Capo d'Arte director; Davide Giannella, curator; Matteo Poli, architect and professor at Polytechnic in Milan; Antonio Russo, professor; Selva Barni, photo editor; and three photographers Emanuele Colombo, Allegra Martin and Antonio Ottomanelli – began gathering their evidence, and thinking about how this phenomenon should be understood.
While the houses are disconnected to the established modern movement of the 20th century in style, the curators reveal how this discontinuity with tradition, is what makes them 'modern'. Their chromatic variation, amongst traditional white houses, and bold décor leaves them decontextualised in the landscape. This hybridity emerged from the experience of emigration relevant to a large proportion of the Salentino population following the Second World War – and hybridity in turn became their defining style.

'We have spotted common stylistic features within every village – each had their "signature"; the use of limestone, the round windows, the tympana. But I think that the most important thing these professionals have in common is definitely encouraging their clients to break the models and therefore assert their own presence and identity,' says Petrucci.
Built in concrete and re-used materials and designed mostly by local chartered building surveyors, the houses are products of the 20th century, yet the curators trace them by various routes to Greek-Roman and Arabic structures, the baroque and the local vernacular of agricultural masserie, palazzos and old country houses that were converted into residential dwellings.

In line with the academic credentials of the team, research for the publication was organised and methodical: 'We divided the region in quarters, and wandered in the villages' outskirts, taking, pictures, notes, addresses. A few months later, the whole team was divided in three groups, each of them with a photographer, a contributor and a producer. And each day, the groups were reassembled and haunting a different area. It's not a thorough repertory of course, and we still bump into "Salento Moderno houses" that unfortunately we didn't find before,' says Petrucci.
Photographs by Emanuele Colombo, Allegra Martin and Antonio Ottomanelli capture the houses's exteriors from the street, framing them with roads, pathways, neighbouring buildings and the sky – a deliberate choice to provide a standard for comparison and future study. The photographs record all the details that typify the buildings, including 'round windows, optical tiles, statues, asymmetric roofs, flashy colours, columns, gables and tympana'.

The essays between the photographs in Italian and translated English, pull out strands of visual analysis, discussion and sentiment. Matteo Poli writes of the 'daring' and 'joyful' nature of Salento Moderno, while Massimo Torrigiani asks, 'What separates the beautiful from the repulsive, the deplorable from the commendable?'
INFORMATION
Salento Moderno (€30) is published by Humboldt Books. For more information, visit the Humboldt Books website
Receive our daily digest of inspiration, escapism and design stories from around the world direct to your inbox
Harriet Thorpe is a writer, journalist and editor covering architecture, design and culture, with particular interest in sustainability, 20th-century architecture and community. After studying History of Art at the School of Oriental and African Studies (SOAS) and Journalism at City University in London, she developed her interest in architecture working at Wallpaper* magazine and today contributes to Wallpaper*, The World of Interiors and Icon magazine, amongst other titles. She is author of The Sustainable City (2022, Hoxton Mini Press), a book about sustainable architecture in London, and the Modern Cambridge Map (2023, Blue Crow Media), a map of 20th-century architecture in Cambridge, the city where she grew up.