Up for debate: architect-activists gather for Rising Architecture Week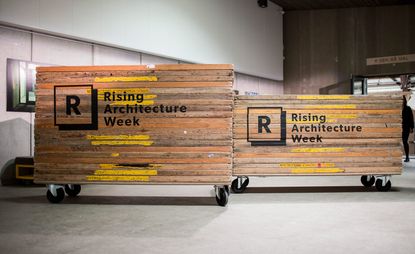 (Image credit: Zuhal Kocan )
Many European Capitals of Culture don't get to be capital of much else. So when they're crowned, you'd better believe they're ready. Aarhus, Denmark's second city and a provincial agricultural hub, has been sharpening up of late – if not for its day in the sun, then for its architectural coming out.

It's rained most of the year to date. And when Rising Architecture – a week-long festival conceived two years ago in Copenhagen – upped sticks to Aarhus last week, it rained then too. But a lot of folks made the trek.

Tour guides escorted smaller groups between the city's architectural jewels: the Arne Jacobsen-designed Town Hall, with its 60m lookout; the gentrifying harbour area, undergoing a radical redevelopment by Bjarke Ingels Group (opens in new tab); the DOK1 complex completed in 2015 by Schmidt Hammer Lassen. There were trips, too, to the SHL-designed ARoS contemporary art museum, already a world-class institute before Olafur Eliasson (opens in new tab) built his colourful neon-lit corona on the rooftop. SHL will unveil their cryptic, underground Next Level addition to the museum in 2020.
Aarhus, a city of 335,000, will never outperform even marginally larger cities in sexy product launches. But it does have a direct route to VOLA, the manufacturer of bathroom and kitchen hardware that collaborated with Arne Jacobsen on its iconic (and still ubiquitous) 1968 'HV1' taps. A crucial commercial sponsor of Rising Architecture, VOLA opened its pristine 2008 facility in Horsens to visitors and took the long route around the brass recycling system to introduce the central theme and keyword of the conference: sustainability. VOLA hardware isn't shaped in moulds; it's cut away from single slabs of heavy metal, with 100 per cent of the rest of the material poured back into the system.

Back at the festival headquarters in Aarhus, a former freight station called Godsbanen, a schedule of speakers played to the strengths of this college town: reflection, motivation, contemplation and conversation. They spoke to a crowd sprawled on layered carpets, and then they retreated to 'the playground', a giant zorb for workshops and activities.
Architect-activists from Berlin-based practice Raumlabor documented experimental projects that created de facto public spaces and pushed them literally up against the threshold of private space. Tinna C Nielsen, an anthropologist and behavioural economist, flashed a diverse series of portraits meant to trigger our intrinsic gender and ethnic bias, and offered a set of tools to help break global patterns of perception to improve our human-scale design.

Ido Avissar, founder of Paris-based practice List, introduced his 'Harbour Magnets', a scattering of nautical-themed installations – a lighthouse, a jetty, a crane – bringing nostalgic interest to the reimagined port. Most rousing was Dutch urban designer Daan Roosegaarde, author of Beijing's Smog Free Tower and a cycle path near Eindhoven that charges up by day and glows like a Van Gogh canvas in the dark. With a slideshow depicting small-towners tripping up escalators and 'smart' ant colonies dozens of metres wide, he lamented 'cities that are killing us' and advocated for design that can engineer our way back to good health.

What he said next could apply as much to life as to an architecture festival in a burgeoning European city: 'Design is not about making another bloody chair.'
INFORMATION
For more information, visit the Rising Architecture Week website (opens in new tab)