Beaux arts and brutalism reimagined on the Ottawa architecture scene
Canada's national capital is a theatrical set piece of symbolic real estate, with Parliament Hill, Confederation Square and the Senate all within a few hundred metres of each other. Here architecture is a performative act.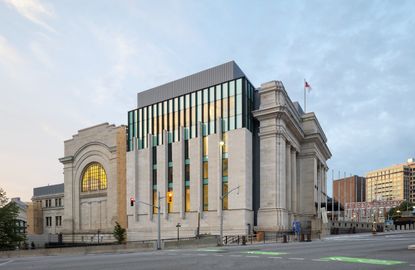 (Image credit: Tom Arban Photography)
Ottawa is both a capital city where broad strokes of Canadian identity loom large – a nightly summer light show on Parliament Hill called the 'Story of Canada' highlights the nation's multiculturalism and differences with its southern neighbour – and a growing community of a million people christening its first LRT (Light Rail Transit) 'Confederation Line' this summer.

Bureaucrats have long been the gate keepers of the city, where government remains the main employer, closely followed by high tech and (post Trudeau's legalisation of marijuana), Big Cannabis. Several recent projects (partly legacies of Canada's sesquicentennial) have attempted to contemporise and democratise the Victorian and beaux arts buildings that house national institutions. As the late 19th century Parliament building journeys through a two decade, multi-billion dollar series of renovations, and a fall election looms, architecture is taking centre stage.
Across from the neo-French gothic Chateau Laurier, a castle like old railway hotel on the other side of the canal from Parliament Hill (whose proposed new addition has sparked controversy among conservationists), the new Senate by Diamond Schmitt Architects and KWC Architects leads the way. Completed this spring, it transformed a 1912 railway station (still connected via underground tunnels to the Chateau that has housed heads of states for decades) turned conference centre in the 1970s – into a temporary home for the Senate. The project modernises the building while honouring its gorgeous beaux arts bones, breathing new life into what was once a moribund institution.

The same principles of openness and transparency governed the Diamond Schmitt Architects' 2017 renovation of the brutalist National Arts Centre, whose original 1969 hexagonal geometry is seamlessly extended into a new addition wrapped in glass that offers increased public space and a series of break out performance areas and informal stages, including a see through street level cabaret space.

The new cathedral like lounge area with soaring ceilings – scented with the aroma of the BC pine that comprises its walls and flooring – is literally and metaphorically connected to the old Canadian Shield inspired concrete walled building by a bridge. It offers the perfect perch – with framed views of Parliament and surrounding buildings – from which to contemplate the whole idea of Canada.
Government of Canada Visitor Welcome Centre, by by IBI Group in association with Moriyama & Teshima Architects

The first new build on the hill in 75 years, the underground visitor's centre references the vaulted ceilings of Parliament in a contemporary idiom.
The National Arts Centre, by Diamond Schmitt Architects

The 2017 completion of the National Arts Centre (celebrating its 50th anniversary this October) renovation stayed true to the hexagonal program of the 1969 building. At the same time, the refresh by Diamond Schmitt Architects opens up the brutalist beauty to surrounding views and streetscape.
West Block of Parliament Renovation, by Architecture49 and EVOQ Architecture

With the Centre Block of Parliament currently under renovation, a new home for the house of commons was created in the West Block. The exterior envelope was restored and a glass canopy installed, all courtesy of EVOQ Architecture.
The Ottawa Art Gallery (OAG) Expansion and Arts Court Redevelopment project, by Barry Padolsky Associates Inc. Architects and KPMB Architects

This mixed use downtown project on city land combines a private sector residential tower with a new art gallery. The project also incorporates related facilities for artists and arts organisations.
Ingenium Collections and Conservation Centre, by Diamond Schmitt Architects and KWC Architects

Next door to the Canada Science and Technology Museum, this facility is for both storage and exhibition. The scale and massing of its warehouse like façade is broken up by trapezoidal windows and colourful fins.
Bank of Canada renovation, by Perkins and Will

The original 1938 building was updated by Arthur Erickson in the 1970s. Now, Perkins and Will have seismically upgraded the building. The architects also added an underground museum and plaza, but sadly Erickson's stunning interior atrium was walled off from the public realm.
Zibi

Zibi promises to be Canada's most sustainable neighbourhood including designs by a variety of architects, such as Diamond Schmitt, Figurr Architects, Lemay, Perkins and Will, Sid Lee Architecture, KPMB Architects, Kohn Architects and Teeple Architects. The masterplanned community on the Ottawa River straddles both Quebec and Ontario.
National Holocaust Museum, by Studio Libeskind

Located next to Moriyama and Teshima's 2005 War Museum in historic LeBreton Flats, the cast-in-place, exposed concrete monument is a powerful, experiential environment. Daniel Libeskind and his team conceived the space in the shape of a star.
The Flora Footbridge, by DTAH

The Flora Footbridge by Toronto's DTAH is a new multi-use pedestrian and cyclist arched bridge over the Rideau Canal that joins two mid-town Ottawa communities. The eastern access features a switchback ramp and staircase, while the western access is a curved earth fill ramp with asphalt pathway.
Château Laurier addition by architectsAlliance

A proposed modernist addition to the 1912 hotel and national heritage site, to comprise long term stay suites, has proved controversial, but has also sparked rare public debate about architecture in Ottawa. The architects say it will create a more direct relationship between Major's Hill Park, the Terrace and the Hotel, with a new entrance leading through a new parterre courtyard into the Château's Grand Ballroom.