Post-office: hospitality groups blur the lines between workspace and hotel
Hot-desking hots up as hospitality groups, from Soho House to The Hoxton, open dedicated spaces for the peripatetic creative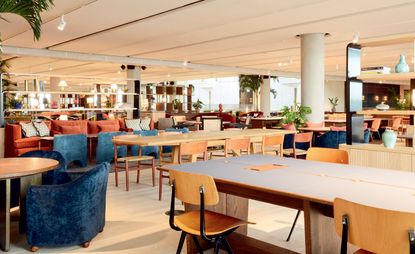 (Image credit: Jason Oddy)
As professional life has, for many, been transformed into a precarious portfolio of short-term contracts and side-hustles, so the flocks of peripatetic keyboard-peckers – gathering in cafés, certain hotel lobbies and members' clubs – have grown larger. Even as properly kitted-out co-working spaces have appeared and multiplied (there is now an estimated 521 million sq ft of 'flexible workspace' around the world, valued at around $26bn) many of the long-established hotel screen guilds and members'-club laptop collectives have decided they are quite happy where they are. The hospitality giants are now moving to leverage that legacy and make revenue-generating moves
into the co-working market.

The London-based global members' club chain Soho House has long been a de facto co-working spot. It first created a distinct business for 'digital nomads' in 2015, launching a 16,000 sq ft space below Shoreditch House in east London. In many ways, Soho Works raised the bar on co-working design, with retro phone booths and private offices. There was also a photo studio and post- production facility and even a tooled-up workshop, recognising that not all modern creatives did everything on a laptop. It has also, according to the group's founder and CEO Nick Jones, made money.

It has taken Soho House nearly four years, though, to expand on the idea. Now it is running with it in a big way, dedicating an entire 30,000 sq ft floor on the site of the recently opened Soho House White City to the concept. But, Jones says, the new version of Soho Works is doing things a little differently. The original was a toe-in-the-water standalone co-working space, but Jones sees the new version more as a slightly tweaked version of the clubhouses, largely aimed at Soho House members, new and existing: 'We want them to have similar vibe to the Houses, but also be places where you can make a phone call and get some printing done,' says Jones. All the usual provisions of the better sort of co-working spots are here. But while the main lounge area is lined with private offices,
 Soho Works is clearly shifting the balance towards
a buzzy communal workspace (while WeWork and others increasingly focus on the more secure business of private offices for large corporates and SMEs).

And it's a model that will be rolled out quickly and at some scale. Within six months to a year, Soho House
 is planning to double the size of Shoreditch Works to bring it in line with White City. It is also transforming part of 180 The Strand, a brutalist hulk overlooking the Thames, into the new Soho House mothership, with an HQ, a two- floor clubhouse and four-floor Soho Works. The freed-up space at its current Soho offices will also be converted to the co-working format. In New York, 
it is planning to open two Soho Works in Brooklyn, and another two in the Meatpacking District, by the end of the year. All future openings (including just-opened Hong Kong and soon-to-open LA outposts) will include a workspace on the same site or within a few minutes' walk, and Soho Works provisions will also be added to, or near, existing clubhouses.

According to Jones, the relaunch of Soho Works serves a dual purpose: to offer members something they might need, but also to siphon o some of the 'laptop- related traffic jam' in the clubhouses. 'A decade ago there was a conscious decision to encourage people to come and work, eat and play in the same place,' he says. 'The problem is the gig economy has got so big and
our membership has got younger. And guests who want to eat and drink have been struggling to find tables.
 So we're trying to be positive and say we have this nice new amenity you can use.' The business-class upgrade does come at cost, of course. But at £150 a month for hot-desking, members can still get all-house access and 'Works Plus' for less than the cost of a hot-desking spot at a decent co-working operation.
Though co-working is now a very crowded space, Jones is convinced that it has a competitive advantage: a staunchly loyal community of members. 'A lot of our members already use co-working in one form or another and I think they would rather go with Soho House's version if they had the option. We've been doing this for 25 years now and people feel very bonded to us. We want to create that kind of community in Soho Works.'

What the Soho Works revamp perhaps signals most clearly, though, is that co-working spaces will become even more in tune with the contemporary blur of work and social life, of a dip-in-and-out working day that involves breaks for 'wellness' and decent food.

That's certainly what Ennismore, the operator of The Hoxton hotels, is betting on. Launched in that patch of east London in 2006, there are now nine Hoxtons in Europe and the US. The group is debuting its co-working concept, Working From, in the Chicago Hoxton this November. A second branch is set to open late this year at its newest London hotel, its fourth in the capital, in Southwark. The Hoxton is also committing serious space to the idea. The Chicago Working From will operate from two floors in the same building as the hotel, offering 294 desks. The Southwark branch will take over six floors, offering 744 desks, meeting rooms, a wellness studio and a winter garden. Ennismore says it has listened to and learned from its lobby-ists in developing the concept. The emphasis,
 it says, will be on home-from-home comforts with custom-designed daybeds and armchair-crammed communal spaces. But it has also – given its £200 a month hot-desking fees (there is also budget 'side- hustle' option if you only want to use the 24/7 space after 5.30) – added more work-friendly amenities including ergonomic chairs and wireless charging, and started to offer permanent desks and private studios. Working From is also promising fully transparent fees, which include unlimited printing, help-yourself pantries, events and classes, as well as preferential rates on meals and hotel rooms, with 'duvet days' if you want to catch up on sleep after a red-eye flight, and a deadline hotline for those working late into the night, offering hotel rooms for £15, if available.
RELATED STORY
Other hotel groups are at it too. Crowne Plaza has created the Plaza Workspace concept with Conran + Partners, debuting in six revamped flagship hotels this year. Lobbies have been redesigned to offer 'nooks', 'huddle spots', studios and other work-friendly areas. And earlier this year the Paris-based Accor group – which operates hotel brands including Raffles, Mama Shelter, Banyan Tree, Mondrian and Pullman – announced even more ambitious plans for its Wojo concept. It promised to open 1,200 new co-working spaces in under three years to take on WeWork and establish itself as Europe's largest co-working operator by 2022 (Wojo CEO Stéphane Bensimon says that eventually no one in Europe should be more than ten minutes from a branch or outpost of Wojo).

Fee-free Wojo Spots will appear across the group's hotels (though, like the Plaza Workspace, these are essentially a belated invitation to work in the hotels' lobbies and bars). Wojo Corners, meanwhile, are small dedicated co-working spaces, the rest appearing at the Mercure Paris Montmartre Sacré-Coeur hotel last year (essentially a contemporary upgrade of the tired old hotel business centre). Wojo Sites are the standalone, full co-working monty, with ten already in operation in France. Accor is planning to add 50 more by 2022, and is now positioning itself as an 'augmented hospitality brand'. Like Ennismore, it is betting that a blend of co-working and hospitality knowhow will give it a competitive edge.

Not that any of these new or redirected co-working players will have it easy. The competition is not standing still: WeWork is still wildly expansionist, despite concerns about its extravagant valuation; and niche players are increasingly using design and stand- out architecture to attract the highest-quality creative clientele. Second Home has landed in the US with a 90,000 sq ft SelgasCano-designed 'urban campus' of 60 yellow-roofed pods in East Hollywood; The Office Group, the British pioneer of co-working spaces, has confirmed its expansion into Germany; while NeueHouse, already a favourite of cultural heavyweights in New York and LA, is soon to open in downtown LA's landmark Bradbury Building (star of Blade Runner and other cinematic outings). Yves Béhar has a stake, and a design hand, in Canopy, which has opened three co-working sites in San Francisco in
the last four years. Meanwhile Spring Place, running high-pro le fashion and lm-centric creative-hubs
in New York and LA, is expected to arrive in Milan
and Paris soon. Laptops at the ready.
As originally featured in the November 2019 issue of Wallpaper* (W*248) – on newsstands now
INFORMATION
sohoworks.com