On the road: these nomadic homes could set you free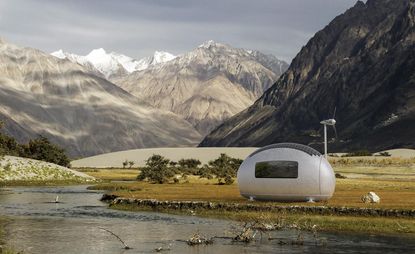 (Image credit: Courtesy of Ecocapsule Holding)
Wallpaper* Newsletter
Receive our daily digest of inspiration, escapism and design stories from around the world direct to your inbox
Thank you for signing up to Wallpaper. You will receive a verification email shortly.
There was a problem. Please refresh the page and try again.
We are all, once, nomads. Our ancient ancestors wandered from place to place as the climate and crop demanded—and their homes had to be fit for this itinerant lifestyle. If you're on the move, your home needs to move with you. Philip Jodidio's new Taschen tome, Nomadic Homes begins with an overture to our deep-rooted peripatetic spirit, and brings out some surprising examples and architectural feats that show how housing has been adapted to the lives of wandering souls. From 8th century tents to trailer homes, Bible wagons, igloos, sustainable pods in the forests and houses that float on water, Nomadic Homes gives endless examples of innovation and experimental design.

Being rootless doesn't mean you have to forgo on comfort—or stability. Or at least, not in the psychological sense: Danish group N55's Walking House (2009), an environmentally-friendly modular abode for up to four people, walks on six legs, powered by linear actuators. Probably not the best time to cook dinner. It is impossible to think about nomadic living today without thinking about migration forced by political and environmental disasters.
Floating House, designed by Carl Turner Architects. Courtesy of Carl Turner Architects

It's hardly surprising, in this context, that the architects, designers and artists interested in temporary and moveable homes often engage with the challenges of our times. One example is Shigeru Ban's emergency relief projects, such as the shipping containers he set up as bright, open living spaces in Onagawa following the tsunami in Japan in 2011, and the pre-fabricated foam-board houses he proposed in Manila in 2013 – one of the ways nomadic thinking could be applied to address the needs of the displaced. Morphosis' The Float House, able to self-sustain and to withstand the floods caused by storms like Hurricane Katrina, is another solution for troubling times.

The book also points to nomadic living, as chosen lifestyle, as a political statement, bucking against conformist society and its ideals of ownership — something that seems increasingly appealing with rising house prices and urban overcrowding. Tiny house pioneer Christopher Smith (also the subject of a documentary film) built his cosy, off-grid, self-sufficient home in Colorado for $26,000. Equally appealing is the snug Collingwood Shepherd Hut, constructed from all kinds of reclaimed wood, with bright, minimal interiors — no more than just what you need, a riposte to a culture of consumerism and excess.

'As it should be readily apparent from this summary collection of movable residences from all over the world and in all types of different contexts, the nomadic spirit of our ancestors the hunter-gatherers is very much alive in the modern world,' Jodidio writes. 'Where architecture has often sought stability and thus the lack of movement, modernity has brought a sense of the finite, and a good deal of modesty about posterity and longevity.'
INFORMATION
Nomadic Homes, published by Taschen
Receive our daily digest of inspiration, escapism and design stories from around the world direct to your inbox
Charlotte Jansen is a journalist and the author of two books on photography, Girl on Girl (2017) and Photography Now (2021). She is commissioning editor at Elephant magazine and has written on contemporary art and culture for The Guardian, the Financial Times, ELLE, the British Journal of Photography, Frieze and Artsy. Jansen is also presenter of Dior Talks podcast series, The Female Gaze.