New Lab's co-working space is an antidote to the rent-a-desk model that's sweeping the globe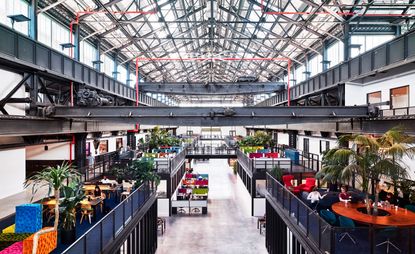 (Image credit: press)
Shared workspaces have become so ubiquitous in the global urban landscape that WeWork, the defacto face of the movement, now has offices in 12 countries and more than 30 spaces in New York alone. But, in an increasingly crowded market filled with companies like WorkHouse, Projective Space and Ensemble, there's a new venture in Brooklyn that's an antidote to the rent-a-desk model that's sweeping the globe.

Say hello to New Lab: a private working community for hardware manufacturers, particularly in the area of technology, located inside its 84,000 sq-ft former shipyard. 'When we saw this building', says founder David Belt, 'we thought, this is one of the last places in New York where interesting things can happen.'
New Lab resides inside Building 128, the once-fallow monument to machinery's past, inside the Brooklyn Navy Yard – part of the regeneration of the borough's proclivity towards making and manufacturing. 'I love Brooklyn. I live in Brooklyn,' says Belt, 'but people tell us if they're in some maker-space, it's hard to attract top engineers from MIT or Carnegie Mellon.'

Belt emphatically explains, 'We wanted to build New Lab for this community – for the smartest, brightest people at the top of their game who are also entrepreneurs and are looking into the abyss.' The private workspace is partially funded by the New York City government in an effort to revitalise industry, and not nostalgia of yesteryear's smoggy industrialised past – as New Lab symbolically and quite literally shows, it's a clean, forward-thinking future.

The concept for New Lab, explains Belt, stems from 'what's going on in 3D printing, or what's happening in other forms of manufacturing, what companies in NYC are building interesting products. Doing hardware in NY in difficult. We can create a public/private partnership and get support from the city and state and tax credit financing.'

Though the project was financially greenlit more than four years ago, it's only now that New Lab has officially opened, after receiving the $35 million private investment it needed to finalise construction and equip the space with state-of-the-art resources, from 3D printers to wood and metal shops, and printing studios.

Currently, 30 or so tenants occupy the space, including Nanotronics, Jason Krugman Studio and Honeybee Robotics – even outspoken 3D industry guru Francis Bitonti has moved in. While it may seem like the secrets of tomorrow are being plotted inside today, as Belt says, 'we like to tell people, "We don't know what the future is going to look like in the future."' Except that it'll be made in Brooklyn.
INFORMATION
For more information, visit the New Lab website (opens in new tab)
ADDRESS
63 Flushing Avenue
Building 128
Cumberland Gate
Brooklyn NY 11205
VIEW GOOGLE MAPS (opens in new tab)