Composing Neutelings Riedijk's biodiversity museum in Leiden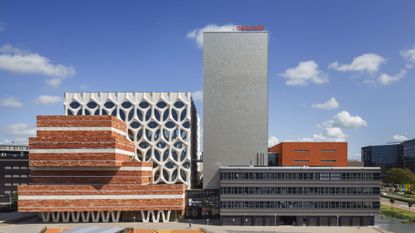 (Image credit: scagliolabrakkee / © Neutelings Riedijk Architects)
The architect's exploration of light, materials and textures becomes a key part of the experience at the new Naturalis National Biodiversity Center in Leiden, The Netherlands. Designed by Neutelings Riedijk Architects, the project – which combines a publicly accessible museum with an archive, storage, offices and laboratories for the centre – draws together a cluster of existing and new buildings, forming an ensemble dedicated to nature, research and conservation that houses one of the biggest natural history collections in the world today.

Its contents are impressive, yet the Naturalis is just as interesting an architectural experience too. A lavish, sculptural entrance hall on the ground floor, wrapped in a three-dimensional white, organic structure, acts as a heart for the complex, forming a physical connection with each autonomous building, while creating generous floor-to-ceiling height for an eye-catching entry. The external wrapping features large openings, so that ample light can come in, while creating shadow and reflection patterns across the interior. This central core not only houses a lobby, auditoriums, a restaurant and a shop – it also provides with views across levels, underlining its central role in this scientific campus.

Here is also where the museum's journey starts for the visitor. On one side of the atrium, the main staircase sits proudly in full view. Described by the architects as a 'mountain path', it appears as if it has been carved into the building, creating tiered balconies that form open corridors on all floors. 'The mountain is a powerful metaphor', shares Michiel Riedijk, co-founder of Neutelings Riedijk. 'In mythology, it always had a very strong connotation as a sacred space. We wanted to evoke the notion that architecture resonates on a metaphorical level with the notion of nature, whilst at the same time it can be used as an organisational device for the architectural composition'.
Clad in travertine, the museum wing features four volumes stacked like tectonically shifting layers. Rising up to six levels internally, each dedicated to the natural world, the museum also reveals a glimpse of nature's history through its very form, as well as the research work of the institute. Neutelings Riedijk Architects imagined an architecture that creates a 'world', one in which boundaries between building and experiencing a subject dissolve. The firm's collaboration with two leading designers further developed this idea.

Inspired by rock formations and the collection at Naturalis, Dutch fashion designer Iris van Herpen worked on friezes in white-coloured concrete that gently embrace this monolithic edifice, creating a seamless transition between exterior and interior. 'I especially fell in love with the fossils', she explains. 'This eternalized life in stone is breath-taking, these frozen forms moved me to think of stone as a drapy material, like fabric. I started to think about architecture in terms of the archaeology of a dress. My design process in this case – the scale of it and discovering the right techniques, materiality, softness, and three-dimensionality – was so very new to me'.

Every detail inside and out has been considered, and the particular sophistication in the use of materials – a signature of Neutelings Riedijk Architects' work – does not go unnoticed. Shimmering travertine from Iran, oak, greystone, and white concrete mixed with marble orchestrate this new research centre. Integrated into the walls, graphic acoustic panels designed by Dutch designer Tord Boontje engage in a special dialogue with the space they inhabit, while providing guiding sight lines to the museum's pathway.
INFORMATION
The Naturalis Museum, Leiden, opens on 31 August. neutelings-riedijk.com (opens in new tab)