Japanese lantern: Ottawa's National Arts Centre glows from within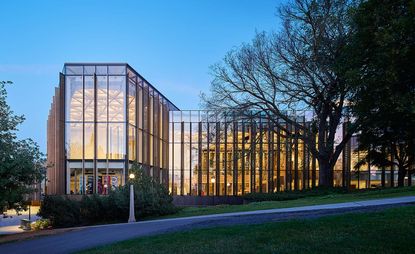 (Image credit: doublespace)
The latest stage in the on-going $225 million rejuvenation of Ottawa's National Arts Centre by Diamond Schmitt Architects employs light as an architectural element. Inspired by traditional Japanese lanterns as well as the use of light and video in monuments like the Arc de Triomphe and even Yad Vashem, the Kipnes Lantern (named for its generous patrons) is a three storey, hexagonal glass tower, positioned above the new Elgin Street entrance, featuring the largest transparent LED screen in North America.

Originally, the brutalist 1969 Fred Lebensold-designed structure was conceived in concrete, with a rigourous geometry as a series of stunted towers that reference the surrounding rugged terrain of craggy escarpments and Canadian Shield. In keeping with the architects' concept of opening up the building, the lantern will act as a device for illumination, transparency and community engagement. Acting as a 'fifth stage' for the venerable arts centre (designated as a national historic site in 2006), the lantern is a literal and figurative beacon, opening up the national cultural symbol to new possibilities.

While the old NAC suffered from a bunker-like insularity, effectively turning its back on the city, the new lantern element will continue the process of connection with nearby Confederation Square, the Rideau Canal and the Parliament Buildings. 'The unique see-through technology of the screen complements the transparency established in the new public wings that enwrap the NAC and provide connection with downtown Ottawa and outstanding views of nearby landmarks,' says Donald Schmitt, principal of Diamond Schmitt Architects. In addition to the transparent digital screens on four sides of the Lantern, Vancouver's ClearLED has also designed smaller fin screens along the Elgin Street façade.

NAC CEO Peter Herrndorf sees the Kipnes Lantern, which will display NAC productions as well as work being done across Canada, as 'a beacon for the performing arts, showcasing the breadth and excellence of the music, theatre and dance being produced across Canada'. While striking a sober balance with nearby national monuments, the Lantern will also be a touchstone for light and video programs to complement national holidays.

Like an aesthetic Canadian superhero that doesn't overwhelm its more traditional neighbours, the NAC Lantern reads like a national light box – both a screen for and a reflection of the best of Canadian culture.
INFORMATION
For more information visit the DSAI website (opens in new tab)