Musée d'Art Moderne de Paris reveals revamp by French architects h2o
Revelation respects heritage in this sensitive, subtle facelift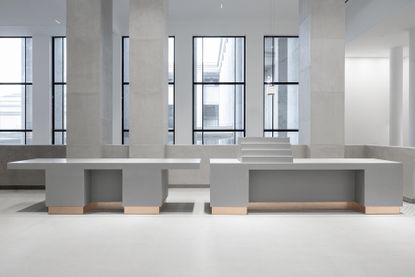 (Image credit: Thibaut Voisin)
The Musée d'Art Moderne de la Ville de Paris has reopened – with a Hans Hartung retrospective – following a revamp by h2o Architectes in Paris; and the refurbishment, lasting three years, was worth the wait. The new design is an elegant exercise in heritage-respecting revelation.

The volume of the 6m high entrance hall has been enhanced; walls that obstructed views to the exterior have been stripped away; new concrete mezzanine spaces have been created. This all makes the ground floor seem more open, fluid and contemporary. Yet the myriad of changes for the €10m facelift are so understated that they might go unnoticed.

'We've made some surgical interventions and other changes that are more visible and useful,' Antoine Santiard from h2o says. 'We wanted to liberate the maximum amount of space and strengthen the interior-exterior relationship but if people don't see that it's new, we find that good!'

Santiard worked on the ambitious project with Jean-Jacques Hubert, his partner at h2o. To win the commission, the studio was required to submit a descriptive document detailing their vision rather than architectural plans. Having already developed interstitial spaces at the Louvre, h2o approached the brief with historical sensitivity.

They began by studying photos and plans by the four architects, Jean-Claude Dondel, André Aubert, Paul Viard and Marcel Dastugue, that had designed the Art Deco building and the Palais de Tokyo in 1937 for the International Exhibition of Arts and Techniques in Modern Life. Since then, several other architects had intervened, cluttering the space and partly concealing the windows that look out to the Palais de Tokyo, Santiard says.
'It was almost like the work of an archaeologist to understand what had been added, what was original and where we could intervene,' he explains. 'The building was like a millefeuille,' says Gaëlle Gabillet from Studio GGSV in Paris that designed the furniture, referring to the multi-layered French pastry dessert.

The biggest change is the two sweeping mezzanine spaces of differing heights – one of which will be used to welcome groups – in the entrance hall. 'We wanted them to be like balconies at the opera, where people like to see and be seen,' Santiard says, adding that they provide greater visibility of the permanent collection in the basement.

The museum remained open throughout most of the renovation period with visitors using a temporary entrance; builders were tearing down walls while the museum was operational. Other changes include ventilation improvements throughout, such as in the rooms displaying monumental murals by Raoul Dufy and Matisse, and greater wheelchair accessibility.

H2o teamed up with Studio GGSV (Gabillet and Stéphane Villard) who have designed curvilinear 'phantom furniture' for the visitor information desk in concrete and brass, suspended lights formed from five white, circular rings and black, geometric Rietveld-evoking chairs.

'The lights recall those made from white metal tubes in 1937 that we reinterpreted and made contemporary,' Gabillet says. 'Our desire was to domesticate the place and bring the idea of the object back into a museum dedicated to art. It's as if the ghosts of 1937 have appeared!'
INFORMATION
Receive our daily digest of inspiration, escapism and design stories from around the world direct to your inbox