A new book explores how mobile architecture is inspiring solutions to urban issues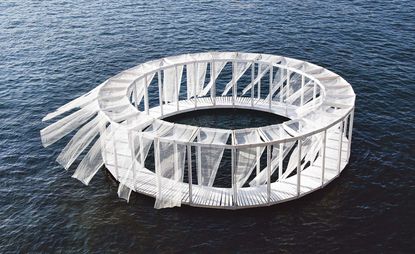 (Image credit: Ahmad El Mad)
Mobitecture: Architecture on the Move by Rebecca Roke is a compact visual exploration into mobile architecture. In a world undergoing mass population movement driven by political crisis, as well as economic migration, housing crunches and the onset of Generation Rent, the thought-provoking book forces us to re-examine the urban constructs that our lives are built on.

Yet, while it feels like a topical moment for discussion, Mobitecture is nothing new – it dates back to the earliest forms of human settlement. It has always been adaptable, resistant and mobile, following the course of natural changes in weather and animal migration, such as the Bedouin tents made of goats' hair; the Central Asian yurt in felt and timber; or the tipi, found in the Arctic Circle.

The book introduces a range of projects that respond to a variety of international scenarios explored by architects, designers, artists and students, all neatly and clearly organized into chapters according to each project's primary means of mobility – carried on hand and foot, no wheels, one or two wheels, sleds and water, with a key of symbols that identify modes of movement for example pedals, paddles or an onboard engine.
From an extendable backpack tent designed by David Shatz, to Alastair Pryor's durable Compact Shelter cubicle for use in disaster zones, and a modular cage system by artist Winfried Baumann, the projects all reflect different uses, situations and also raise questions about living such as security, survival and privacy.

Many projects are the result of research such as the Millenial Housing Lab, a project by Harvard students Jon Staff and Pete Davis that investigates the psychology of small space living. The 'Homeless Homes' project by Gregory Koehn, meanwhile, examines the sense of ownership and pride that accompanies the notion of 'home'.

Reflecting on how architectural theories and trends are also shaping Mobitecture, Roke quotes from the Futurist manifesto of 1909: 'We no longer believe in the monumental, the heavy and static, and have enriched our sensibilities with a taste for lightness, transience and practicality.'


While governments might prefer us to remain at a fixed address, static, controlled, counted and accounted for, nomadic ways of life seem to be becoming popular again among a digital generation of workers. Roke references the writing of architecture critic Michael Kimmelman who explores a recent trend of middle-class migration, and people travelling in search of different lifestyles – a trend that is represented in Stefan Juust's 'Travel Box'. A sleek, 60kg solution to living on the move, the 'Travel Box' is a bed, table, chair and bicycle storage packed up into a metal box to allow for a familiar environment any where you go.

Any negative connotations of mobile architecture such as instability, need to be reassessed when actually these designs might be able to provide us with better solutions for living, and allow us to live closer to the actions that define us, instead of the objects that weigh us down.

Interesting public space projects in the book include the 'paracycle swarm' designed by Dutch collective N55, which consists of a fleet of artificial gardens set on tricycles that allow people to reclaim public space, encouraging social exchange, as well as the A47 mobile library designed by Productora in Mexico, a flexible space for meetings and events that also houses 1,500 books.

While Mobitecture presents a jaunty compilation of projects that are clever, bright and witty, the book is embedded with important issues to architecture and life today, and it might just inspire some new ways of thinking, further challenge our precast notions of stability, freedom, security, privacy and survival, and help its readers to culturally reassess readily accepted urban conditions.
INFORMATION
Mobitecture: Architecture on the Move, £14.95, published by Phaidon (opens in new tab)
Harriet Thorpe is a writer, journalist and editor covering architecture, design and culture, with particular interest in sustainability, 20th-century architecture and community. After studying History of Art at the School of Oriental and African Studies (SOAS) and Journalism at City University in London, she developed her interest in architecture working at Wallpaper* magazine and today contributes to Wallpaper*, The World of Interiors and Icon magazine, amongst other titles. She is author of The Sustainable City (2022, Hoxton Mini Press), a book about sustainable architecture in London, and the Modern Cambridge Map (2023, Blue Crow Media), a map of 20th-century architecture in Cambridge, the city where she grew up.