Miuccia's museum: Milan welcomes Fondazione Prada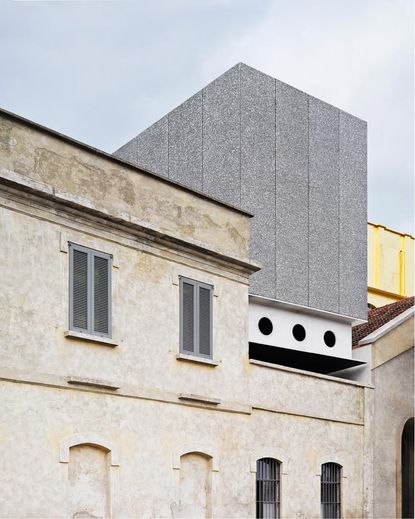 (Image credit: Bas Princen)
Wallpaper* Newsletter
Receive our daily digest of inspiration, escapism and design stories from around the world direct to your inbox
Thank you for signing up to Wallpaper. You will receive a verification email shortly.
There was a problem. Please refresh the page and try again.
Milan is having an uncharacteristically hip moment. Despite messy logistics and half-baked construction, The Expo has revitalised the city's spiritual shroud, while iconic public figures such as Giorgio Armani have helped buoy the wave of attention with a new fashion museum and a recent Hollywood-studded 40th anniversary event. But no one has done more to shine a truly long-term, international and bright lens on this city than Miuccia Prada and Patrizio Bertelli who will open the doors to their long-awaited Fondazione Prada on 9 May.

In the works for more than a decade, the Fondazione opens with 'Serial Classic', an exhibit curated by Salvatore Settis, and lives up to every bit of hype that has swirled around it. The project is massively ambitious – 10 different buildings packed with a dazzling selection of contemporary and modern art sprawl like a labyrinth across 19,000 sq meters — and is just as satisfying.

'People keep asking me if this is an art gallery, a public museum or a private foundation,' Bertelli told us in a private preview of the substantial compound. 'In truth, we wanted to make a space that was an aggregate of all three. It is very homogeneous and at the same time very heterogeneous.'

Visually, the Fondazione Prada is an intriguing hodge-podge of different buildings, styles, spatial sizes, creative themes and time periods. Shiny mirrored surfaces battle against raw concrete interiors; tiny, intimate rooms contrast with vacuous warehouse-sized hangars. Without a typical plan, the discovery process unfolds without a pre-ordained path, though a stop in the Wes Anderson-designed cafe, wrapped in tromp l'oeil wallpaper recreating Milan's famous Galleria Vittorio Emanuele II, would be an excellent place to start.

A former distillery, the location features a disparate mix of seven structures that date back to 1910, plus three new ones (one of which, called Torre, is still under construction) all set within a tall-walled, art-filled campus. Hundreds of pieces of art have been sourced from both Fondazione Prada's private collection as well as non-permanent exhibits and site specific installations.

'It was our intention to make old and new work seamlessly here,' observed longtime Prada collaborator Rem Koolhaas, whose OMA architectural firm was charged with designing the compound. 'At any moment, you can't really tell if you're in an old building or a new one.'

Set in the southern section of the city across from bleak railroad tracks, Fondazione Prada's neighbourhood is in a decidedly un-cool part of town. 'What's fabulous about this area is its industrial quality,' Koolhaas stressed. 'We absolutely do not want to create any gentrification here - this was crucial for all of us.'

The classic Milanese might not be pounding on the surrounding real estate, but the space itself — which unfolds like a creative village with charming public spaces and open-air courtyards — is sure to become a lure, not just for the city's resident design class, but for top art and architecture scene-makers around the world. And let's be honest: this (much more than a six-month, mass, eat-fest) is exactly what the city of Milan needs most.
ADDRESS
Largo Isarco, 2
20139 Milan
Italy
Receive our daily digest of inspiration, escapism and design stories from around the world direct to your inbox