Prada and Versace unite to restore Milan's Galleria Vittorio Emanuele II landmark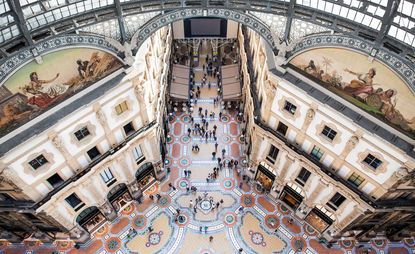 (Image credit: Prada and Versace)
One of Milan's most beautiful landmarks is the Galleria Vittorio Emanuele II (opens in new tab), a soaring glass and cast iron arcade that sits adjacent to the city's majestic Duomo. Built in 1865 in honor of Italy's last King, the gallery signalled Italy's newly brokered unity and is frequently dubbed the world's first shopping mall.

Though it is one of the city's top draws (90 percent of the people who visit Milan pass through the gallery), a dismal lack of government funds have prevented this marble floored monument from receiving the upkeep it needs. As is becoming somewhat of a new trend throughout Italy, fashion labels Prada and Versace have stepped up and opened their wallets to underwrite a year-long cultural restoration that is very close to completion.

Prada's history with the Galleria began in 1913 (30 years prior to the monument being pummeled during a major World War II bombing) when the Milan-based fashion company opened a boutique for its genteel travel gear. In 2013, Prada opened a menswear shop directly opposite its still-open historic shop, followed by Versace's opening last September under the same central octagon.

Funds pledged by both houses have gone towards a 13-month restoration of the 14,000 sq m space. Every morning, 13 white gloved workers from Gasparoli, an esteemed Italian restoration firm founded 150 years ago, are hoisted onto scaffolding that climbs the structure's four storey edifice where they brush away dust and soot using small paintbrush-sized brushes and a vacuum cleaner-like suction machine. Caked on dirt is removed from the Pietra di Vicenza façade and its intricate cariati figure statues using a neutral detergent and gentle water hose that allows for cleaning to occur without erasing the Galleria's historic patina. Meanwhile, stucco is painted into fine cracks and tiny holes.

Every three weeks the scaffolding inches forward by three windows; while a night shift of four other workers is allowing the work to be completed by the end of March 2015, just in time for Milan's expo. The next step is to repair its dirty and leaking glass roof, a project slated for 2016.
ADDRESS
Galleria Vittorio Emanuele II
Piazza Duomo
20123 Milano MI, Italy
VIEW GOOGLE MAPS (opens in new tab)