'Living among the trees' finds form in a Miami house design
The experience of 'living among the trees' takes centre stage in a Miami house by Strang Design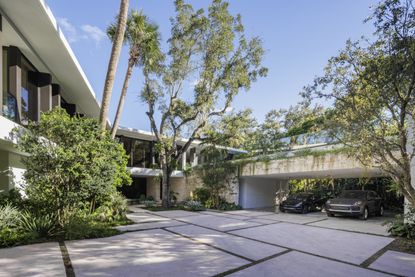 (Image credit: Kris Tamburello)
Wildwood Residence by Strang Design takes 'living among the trees' to a new level with a design that creates a seamless blend between the house and the pre-existing landscape. Nestled within the gated community of Camp Biscayne, the residence provides a welcome moment of respite from the nearby bustling sidewalks of Coconut Grove, Miami's oldest neighbourhood.
'Living among the trees': where preservation meets design
'A large oak tree was preserved within the arrival courtyard and the massing of the house bends around this feature,' explains Max Strang, of the process of designing with preservation in mind. Carved out of a site where tropical treetops form a dense 'jungle-like' canopy, 'sun-seeking design strategies' were employed to create a balance between immersing the house among the trees while allowing it space to breathe.
Immersion and inversion
On creating an experience of 'living among the trees', Strang reflects, 'Instead of the customary design layout of the home's public spaces being on the ground floor with private bedrooms above, that formula was inverted.' These inversions naturally cocoon private spaces below, allowing public amenities above, such as the swimming pool and terrace, to have constant access to the sky.
Within the house, walls of glass showcase the dense network of surrounding nature, creating window portals that nod to a 'treehouse' experience. This narrative continues upstairs, with expansive views framed by deep vertical architectural fins. These distinctive dark aluminium elements were selected to 'mimic the effect of tree trunks', while also providing structure, privacy and solar control.
Grounding through materials
Well-versed in incorporating locally sourced materials into its designs, Strang has made use of local stones such as Oolitic limestone, Caribbean Coral stone and split-face Florida Keystone. 'The appearance of fossilised corals and shells anchor the home to the surrounding geology of the region,' thus enhancing the home's consistent blend and sense of belonging within the landscape.
While there is an enduring sense of coalescence between the house and the original landscape, contrasts between the white roof and dark metal material help 'sharply define how the house meets the sky'. There are also the typical benefits of a white roof in a subtropical climate (reflecting the sun, and protecting the interior from overheating).
The dialogues created within and outside this home, make it an exemplary case of designing in harmony with the existing conditions; crafting locally sourced materials to create an enhanced experience of 'living among the trees'.
Nana Ama Owusu-Ansah is a writer and photographer from London. She first wrote for Wallpaper* in 2021, in a series on the new vanguard of African designers practising in Africa and its diaspora. She is drawn to projects centring on decolonial approaches to art, architecture, as well as community and sustainability. Nana Ama read Economics and Spanish at University of St Andrews, and, as an avid linguist, is passionate about using accessible language to invite new audiences to engage in design discourse.