BIG and Freaks' waterfront cultural hub MECA opens in Bordeaux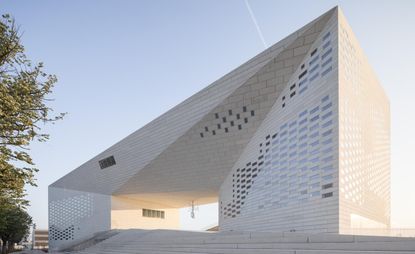 (Image credit: Laurian Ghinitoiu)
The city of Bordeaux is celebrating the inauguration of its new waterfront cultural venue designed by BIG (Bjarke Ingels Group) in tandem with Parisian agency Freaks, opening today. The MECA (Maison de l'Économie Créative et de la Culture), a €60m multidisciplinary hub, includes a FRAC regional art centre, a performing arts centre, the OARA, and an agency for books, cinema and audiovisual media, the ALCA. It is aimed to bring a more international presence to Bordeaux and the Nouvelle Aquitaine region in southwest France.

'This building should embody our commitment to contemporary creation – from contemporary and performing arts through to literature,' says MECA's project manager, Frédéric Vilcocq. 'BIG understood this and transcribed it architecturally. We were seduced by their project's monumental dimension, the asymmetrical arch and how people can use the immense ramp to traverse the MECA without going inside.'

The stunning building on the site of a former abattoir enables visitors to walk across a ramp to the River Garonne even when the venue is closed. The FRAC occupies the three upper floors (with 1,200 sq m of exhibition space, production studios for artists and storage facilities) and boasts a huge terrace overlooking the city.
'The project is like a giant loop wrapping around itself and creating a hole in the building with a distorted arch on the top,' says Jakob Sand, partner at BIG, who managed the project with Ingels. 'It creates public space and is a new gift to the city of Bordeaux.'

BIG beat rivals SANAA, W-Architectures from Toulouse and Bordeaux-based Flint for the commission, with Freaks (founded by Yves Pasquet, Cyril Gauthier and Guillaume Aubry) partnering on the project. 'As an agency, we were too small at the time [to compete alone] and BIG said "yes" immediately,' explains Pasquet.

The parametrically-designed building features BIG's signature expressive style. Pixellations of square windows on the facade are designed to control the amount of light entering the spaces and offices conceal the number of floors and create a sense of transparency. Meanwhile, the theatre's stage is characterised by a black cubed backdrop and rows of seating (otherwise hidden under the floor) pop up during performances.

This is the second project BIG has unveiled in France this year, following the inauguration of Galeries Lafayette on the Champs-Élysées in March.
INFORMATION
big.dk (opens in new tab) freaksarchitecture.com (opens in new tab)