Zaha Hadid's Italian experiments and masterpieces come together at MAXXI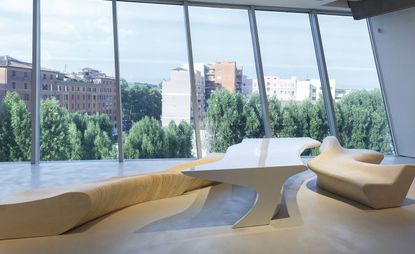 (Image credit: Musacchio Ianniello, Fondazione MAXXI)
Gallery 5 of Rome's MAXXI Museum was the only reasonable place to launch 'Zaha Hadid in Italy', the current survey of Zaha Hadid's output in Italy, on view until January 2018. From the sloping bank of windows three storeys up, there's a lofty view over the museum piazza and a keen sense of its place in the history of the Eternal City.

If the museum itself is a testament to the late architect's commitment to the architecture of dreamscapes, the exhibits spanning the boomerang walls reveal a mind that was always reaching, experimenting, persevering: never dreaming.

Why has Italy been first to mount a visual eulogy of the master to celebrate her works across the nation? MAXXI curator Margherita Guccione sums it up: 'In this evolution… of Zaha Hadid's language and architectural research, from the very beginnings to the more recent works that are still under way, the Italian projects have often represented a juncture and a turning point towards new research and experimental horizons. The MAXXI is the most evident proof of this.'
There is an entire syllabus of creative study here, in computational designs, conceptual sketches that are gradually rendered concrete and 3D models that reveal a singular ease with unconventional materials.

Guccione and Woody Yao of Zaha Hadid Design have installed a video timeline of Hadid's overlapping projects in the country. It complements a swath of photographs by Hélène Binet, who shadowed the architect throughout the last years of her career. They've added branded products – a bag for Fendi (opens in new tab), a bench for Cassina (opens in new tab) – that became icons for 21st-century futurism even before the news broke of Hadid's premature death last year.

Most poignant, though, are her architectural models, like postmodern Henry Moore's designed to support the weight of thousands – though, really, they defy comparison. For many visitors to MAXXI, the sensation of inhabiting a Hadid building will be tragically rare. There was a too-long, too-recent period when Hadid was better known for her battles with clients and local authorities than for actually building things. This exhibition portrays a world catching up with her brilliance – and forecasts a future of lost opportunities.
NFORMATION
'Zaha Hadid in Italy' is on view until January 2018. For more information, visit the MAXXI website (opens in new tab)
ADDRESS
MAXXI
Via Guido Reni, 4
00196
Roma
VIEW GOOGLE MAPS (opens in new tab)