Belgian modern: we explore the brick curves of Renaat Braem's Maison Alsteens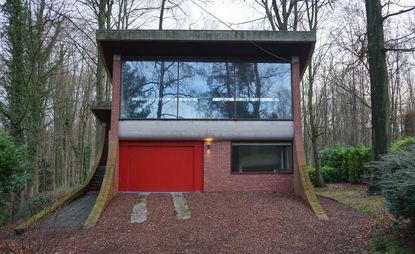 (Image credit: Adam Štěch )
Located in the serene forests of Overijse, a quiet residential community south of Brussels, House Alsteens is the brainchild of one of the most respected Belgian modernists, Renaat Braem. You'd be forgiven not to recognise the name. He, like many of his contemporaries, such as Juliaan Lampens, Jacques Dupuis, André Jacqmain, Lucien Engels, worked mainly locally, within their respective regions, so even though the modernist movement thrived in Belgium, many of the country's best projects of the 1950s and 1960s still remain some of Europe's lesser-known architectural gems. One of them is the Alsteens House, Braem's design for the famous Belgian political cartoonist, graphic artist and painter, Gerard Alsteens.

Braem graduated as an architect from the Royal Academy of Fine Arts in Antwerp in 1935, before spending two years in Le Corbusier's studio in Paris. While his first built works are all straight lines and rectangular shapes, he developed a softer, more organic approach with his post-1950s work. During the next two decades, he created a series of housing estates, such as those in Antwerp's Kiel (1951–1958) and Arena-Wijk (1960–1965) neighbourhoods. He also built several private residences, including his own Antwerp house and studio (featured in Wallpaper April 2011 issue), although the latter, with its fairly austere outline, was quite a departure from the more freeform, rounded shapes he was working with at the time. The Middelheim exhibition pavilion, completed in 1971 in Antwerp's namesake sculpture park, is a case in point.
The Alsteens house, completed in 1967, follows a similar approach. The sculptural structure is nestled among trees in a sleepy, leafy residential neighbourhood outside the village's main core. Just 30 minutes by train from Brussels, this affluent part of the world has been traditionally inhabited by diplomats and expats working in the capital, so large family villas are very much part of the landscape. In terms of style, Braem's project - one of the very few outside Antwerp – is as far removed from the existing built fabric as you can get.

Comprising three main sections, the house is a composition of cascading bricks, smooth, curved walls and a solid concrete roof with an overhang. Inside, painted white bricks create a compact, cocooning space. Steps and different levels help create 'zones' within the house. The main entrance hall sits right at its heart, still featuring the original built-in furnishings. Next to it are a cloakroom and a small kitchen. A staircase leads down to the bedrooms and bathrooms, while upstairs, a spacious living room makes for the house's real centrepiece, with its rounded corners, large strip windows and sculptural brick fireplace.

After the building's completion, Alsteens and his wife bought a house in Brussels and moved there, but the Overijse house stayed in the family, later owned by Alsteens' twin brother Edgard and his sister Denise. They rented it out almost continuously for more than half a century. Now a listed historical monument, the house returns to the family's life once again, as it is about to be lovingly restored to become the permanent home of the next generation of Alsteens.