Limbo Accra talks African creativity through our series of profiles
In a profile series with Ghanaian spatial design studio Limbo Accra, we meet its rich network of collaborators and celebrate creativity in Africa and its diaspora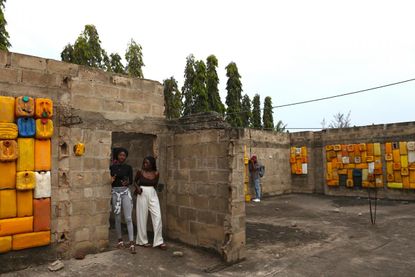 (Image credit: Anthony Combder-Badu)
Over the past year, Ghanaian spatial design studio Limbo Accra developed a series of conversations together with Wallpaper*, engaging with creative practitioners that inspire the studio, in Africa and its diaspora. From democratising architectural perspectives through photography with Jerald 'Coop' Cooper of Hood Century, to challenging design paradigms with Tawanda Chiweshe of Alaska Alaska, and from empowering the next generation of African designers with Nifemi Marcus-Bello of Nmbello Studio, to discussing urban realm with artist Ibiye Camp; this is a series that celebrates African creativity in the continent and beyond.
Hood Century
Hood Century is an online platform founded by Jerald 'Coop' Cooper in 2019. The project, blending Black culture and modernist architecture, was conceived as a space dedicated to documenting midcentury finds from Coop's childhood neighbourhood in Cincinnati. In so doing, the platform soon became a springboard to unpack myriad themes, exploring the intersection between archive, education and activism in urban preservation. Coop and Dominique Petit-Frère, founder of pioneering Ghana-based spatial practice Limbo Accra, connected through their shared interest in the built environment and how it is experienced through the lens and perspective of Africa and its diaspora. The fruit of their collaboration takes form in a new architectural initiative gearing up to unfold in Accra at the end of the year. As a Black person, Coop has often felt disillusioned when navigating design spaces. 'We love architecture and design, but we want to feel like we can participate,' he says. 'Why is the dominant way of presenting [art] in a white gallery? What if Black art was never made for that space?' Read more
Tawanda Chiweshe of Alaska Alaska
Tawanda Chiweshe is a 'creative navigator', designer and studio director of Alaska Alaska, a London-based multidisciplinary design practice founded by Virgil Abloh. The studio was established as a space to nurture the talent of young individuals in the industry, giving them career-changing opportunities and in so doing, empowering a new wave of Black design innovators. Chiweshe and Limbo Accra's Dominique Petit-Frère were brought together through the development of Freedom Skate Park, Ghana's first-ever recreational skate park. However, their connection goes beyond this. They share philosophies on the 'power of design communities', serendipitous connections, and the importance of utilising these to create tangible design solutions. Just as, in a previous article in this series, digital platform Hood Century's founder Jerald 'Coop' Cooper comments on the power of language in design, Chiweshe recognises that the design world often excludes people from a process which is fairly 'instinctive'. He maintains that Alaska Alaska works against these barriers through 'empowering him to verbalise his thoughts' and in turn 'empower those in his orbit to do the same'. Read more
Nifemi Marcus-Bello
What began as an industrial design studio has now expanded to several design disciplines, operating across Lagos, and further afield, with Marcus-Bello winning 'Life Enhancer of the Year' in the Wallpaper* Design Awards 2021. The studio's recent collaborations with Limbo Accra – from activation sites at Scott House, to their joint design competition, 'Africa – A Designer's Utopia' – positions both creative practices at the design vanguard of their generation, inspiring people across the African continent and beyond. After years working in telecommunications as a designer, Marcus-Bello was inspired to start his own design studio in 2017. He realised, 'there is power in producing products on the continent and consuming it ourselves'. Despite warnings of production limitations in Africa, Marcus-Bello believes there are 'a lot of the constraints that people shy away from, [but] I see a lot of opportunity [in them]'. Read more
Ibiye Camp
Ibiye Camp is a multidisciplinary artist and lecturer at the Royal College of Arts (RCA) in London. With a Nigerian mother and English father, Camp's work reflects her upbringing, straddling the binaries of her identity. Moreover, growing up against the backdrop of London's East Street Market, with 'market stalls selling plantain, yam, Scotch bonnets, lace and Dutch wax prints', Camp found herself 'searching for Nigeria', a journey manifested in her work through the omnipresence of textiles, market stalls and themes of labour in public spaces. Camp reflects that she 'was always curious about architecture'. She applied to do an MA in architecture at the RCA – drawn in by opportunities to explore intersections between the social and architectural across myriad mediums. With a keen interest in technology, Camp researched data centres, and how 'imperialist structures influence internet access in Africa'. She began using photogrammetry, scanning moments of data exchange in places such as Balogun Market in Lagos, in order to better document spaces in ways 'representative of the actions that happen within them'. Read more
Nana Ama Owusu-Ansah is a writer and photographer from London. She first wrote for Wallpaper* in 2021, in a series on the new vanguard of African designers practising in Africa and its diaspora. She is drawn to projects centring on decolonial approaches to art, architecture, as well as community and sustainability. Nana Ama read Economics and Spanish at University of St Andrews, and, as an avid linguist, is passionate about using accessible language to invite new audiences to engage in design discourse.
You might also like
Architects Directory alumnus: Atelier Masomi

The Wallpaper* Architects Directory has turned 20. Conceived in 2000 as our index of emerging architectural talent, this annual listing of promising practices, has, over the years, spanned styles and continents; yet always championing the best and most exciting young studios and showcasing inspiring work with an emphasis on the residential realm. To mark the occasion, in the next months, we will be looking back at some of our over-500 alumni, to catch up about life and work since their participation and exclusively launch some of their latest completions. Drawing on local climate, materials and vernacular, Niamey's new cultural centre by Mariam Kamara will be a valuable hub for the arts in the region, but also feel at one with its environment. Kamara's studio, Atelier Masomi, was first featured in the 2019 Architect Directory.

By Ellie Stathaki • Last updated
View More ▸