Last chance to see: Studio NYALI's Venice pavilion on African futures
ArchiAfrika Pavilion by Studio NYALI traverses historic and contemporary architectural design coming from practitioners in Africa and its diaspora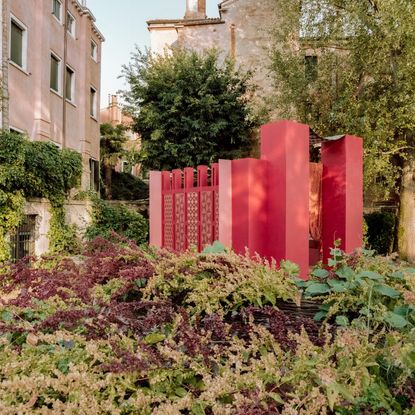 (Image credit: Luca Bosco)
Founded by UK-based architects (opens in new tab) Bushra Mohamed and Nana Biamah-Ofosu, the interdisciplinary architecture, design and research practice Studio NYALI follows 'a strong belief that architecture must be understood as the embodiment and artefact of the human experience'. Its ArchiAfrika Pavilion in Venice, which coincides with the 2021 Venice Architecture Biennale (opens in new tab), is a case in point, exploring African futures – both in the continent and its diaspora – through its architecture, as well as the displays it holds.
The pavilion (opens in new tab) opened with the exhibition 'The Course of Empire: A Compound House Typology', alongside student work from the Kingston School of Art. The show explores the traditional compound house model found in Accra, Ghana, and the possibilities of its adaptability to the urban growth of various African and Western cities.
The 5x5m pavilion itself is composed of public, semi-public and private spaces, with its interior space hosting public events and its exterior serving as seating for visitors. The vibrant red colour of the structure is an aesthetic reference to the historic Jamestown neighborhood of Accra.
Carefully enveloped in the bright fabrics of Ghanaian wax prints, the roof, fully visible once inside, is 'reminiscent of the canopy at Jamestown Café and Gallery founded by Joe Osae-Addo'.
In a time where many of us are reckoning with the fragility of futures that no longer appeal to us, the ArchiAfrika Pavilion is bridging nuances between the intricacies found in the architectures from Africa and its diaspora. It is asking us to reimagine our own futures; ones that we can invent, participate and belong in.
Studio NYALI is one of 200 participants in the European Cultural Commission's Time Space Existence exhibition, running alongside Hashim Sarkis' 17th Venice Architecture Biennale (opens in new tab), which is built around the theme 'How Will We Live Together?' The ArchiAfrika Pavilion is open to the public at the Giardini della Marinaressa in Venice until 21 November 2021.
INFORMATION
studionyali.com (opens in new tab)