Nifemi Marcus-Bello and Limbo Accra discuss design and production in Africa
In our ongoing profile series with Ghanaian spatial design studio Limbo Accra, we meet its rich network of collaborators. Here, Nifemi Marcus-Bello of Nmbello Studio talks about design and manufacturing, and inspiring young generations in Africa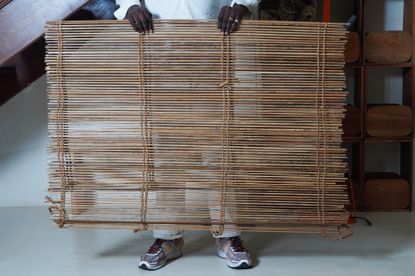 (Image credit: Henry Okwubuasi)
Ghanaian spatial design studio Limbo Accra's rich network has developed through global partnerships that founder Dominique Petit-Frère has nurtured with leading urban space-makers and architectural enthusiasts. Our series of profiles explores the studio's collaborations in order to discuss critical issues of our time, such as design intention, intergenerationality, creativity and change through Africa and its diaspora. The third instalment of our series follows Nifemi Marcus-Bello, a Lagos-based designer, innovator, and founder of Nmbello Studio.
Nifemi Marcus-Bello and Limbo Accra
What began as an industrial design studio has now expanded to several design disciplines, operating across Lagos, and further afield, with Marcus-Bello winning 'Life Enhancer of the Year' in the Wallpaper* Design Awards 2021. The studio's recent collaborations with Limbo Accra – from activation sites at Scott House, to their joint design competition, 'Africa – A Designer's Utopia' – positions both creative practices at the design vanguard of their generation, inspiring people across the African continent and beyond.
After years working in telecommunications as a designer, Marcus-Bello was inspired to start his own design studio in 2017. He realised, 'there is power in producing products on the continent and consuming it ourselves'. Despite warnings of production limitations in Africa, Marcus-Bello believes there are 'a lot of the constraints that people shy away from, [but] I see a lot of opportunity [in them]'.
When researching manufacturing capabilities in his country and wider region, Marcus-Bello realised there was mass production of indigenous products 'woven into the fabric of cities like Lagos, Accra or Abidjan', that were not considered as 'design products' because they were anonymous.
One such product was the 'Kwali', portable carriers of confectionery items found at almost every traffic light in Lagos. Marcus-Bello was intrigued by its production line and deepened his research, motivated by the question: 'How can we as designers benefit from and collaborate within these existing networks?'
Questions like these inspired the creation of the 'LM Stool'. Marcus-Bello recognised the abundance of generators in households in Lagos, so reached out to generator casing factories to understand how he could design around their production line. For the designer, this is what contemporary African design looks like: 'heavily contextual to the environment that the designer or maker is in'.
Petit-Frère and Marcus-Bello first came together through an exhibition at Scott House, a modernist architectural space in Accra, which Petit-Fère wanted to activate by exploring levels of urbanisation and manufacturing taking root within the built environment. 'Partnering with Nmbello Studio on programming around what it takes to build products here led us to the conclusion that you don't have to look anywhere, it's all here,' says Petit-Frère.
One of the initiatives from this collaboration is their design competition, 'Africa – A Designer's Utopia', calling on architectural and design students across Accra and Lagos to participate, offering support towards the production of the winning concept or design. The competition is now live.
Through the competition, Limbo Accra and Nmbello Studio hope to educate students on contextual approaches to design 'with a focus on production, but also how they will engage with the artisans that they'll be collaborating with'. The competition is also a way of shaping this and the next generation of designers in understanding the transformative power of design within their city landscapes.
Both studios also share dreams for changing cities. Petit-Frère wishes for 'more planning around recreational spaces', a wish already being realised through ongoing development of Freedom Skate Park in Accra, Ghana. Marcus-Bello dreams of the introduction of a design policy in Africa, to encourage more consideration into the design of infrastructure, technologies within urban spaces 'led by Africans, with Africans in mind'.
Marcus-Bello has often been told 'contemporary design doesn't exist in Africa', a statement he is quick to rebuke. 'Even the locally made wheelbarrows are ergonomically designed,' he says, also flagging the 'meruwa' mobile containers, which transport water from home to home in Lagos suburbs. These products create job opportunities for people who can transport water, as well as design makers who produce these openly sourced products. 'There's a huge design revolution going on in Africa at the moment,' stresses Marcus-Bello, and the work of his studio is testimony to the power of being mindful of indigenous production capabilities in shaping sustainable design futures.
INFORMATION
Read more articles in this series, with Limbo Accra and Hood Century; and Limbo Accra and Alaska Alaska
Receive our daily digest of inspiration, escapism and design stories from around the world direct to your inbox
Nana Ama Owusu-Ansah is a writer and photographer from London. She first wrote for Wallpaper* in 2021, in a series on the new vanguard of African designers practising in Africa and its diaspora. She is drawn to projects centring on decolonial approaches to art, architecture, as well as community and sustainability. Nana Ama read Economics and Spanish at University of St Andrews, and, as an avid linguist, is passionate about using accessible language to invite new audiences to engage in design discourse.
With contributions from