Salt Lake City makes its mark on the global architecture map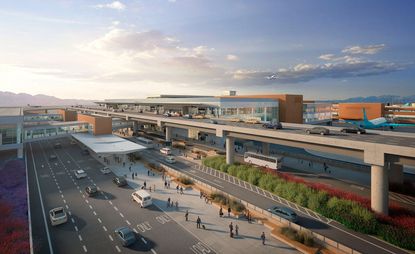 (Image credit: press)
The Salt Lake City skyline is unique among metropolitan cities in the United States in that it places modern architecture against the imposing Wasatch mountains. It is in the heart of the American West, and the striking landscape and juxtaposition of nature and concrete are the catalyst for growth in what locals often call 'Small Lake City.'

The city centre is only a few miles from world-class ski resorts, mountain bike trails, and protected land. While many outdoor enthusiasts call Salt Lake City home, it also draws a young, forward-thinking, and educated workforce. Tech companies in particular are flocking to Utah. The state is home to more than 4,000 startups and was recently named one of the top locations in the United States for online business. With the help of the area known as Silicon Slopes just south of Salt Lake, Utah is the third fastest growing state in the nation.

Utah welcomes more than 23 million visitors to national parks each year and also serves as a cultural hub and host to the annual Sundance Film Festival, which brings in film stars and cinema lovers from around the world. The George S and Dolores Dore Eccles Theater, completed in 2016, is Utah's first world-class performing arts theatre. It will both enhance the film festival experience but also bring first-run award-winning touring Broadway musicals to Utah year round.

Since hosting the successful 2002 XIX Olympic Winter Games, Salt Lake City has embraced skyscrapers and unique modern structures — and this architectural boom hasn't slowed. The Natural History Museum of Utah, which marries nature with the manmade, continues to inspire many projects. GSBS Architects/Ennead Architects built this iconic museum with mother nature in mind. The structure is a Leadership in Energy and Environmental Design (LEED) Gold certified building that seamlessly integrates state-of-the-art design ideas, and it has successfully paved the way for all that is coming to Salt Lake City.

Read on to see the projects that are putting Utah on the global architectural playing field.