A cubist white house takes a modern approach to local architecture in southern Italy
A relatively austere exterior plays with local vernacular and reveals a bright and open family retreat in Salento, Italy at La Torre Biance (The White Tower), a house courtesy of London-based DOS Architects' Lorenzo Grifantini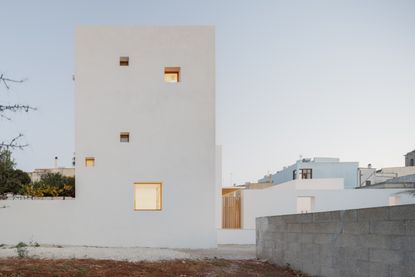 (Image credit: Lorenzo Grifantini)
In a remote village in the 'heel' of Italy's boot, a new property plays with the local building style. The White Tower in Gagliano del Capo, Salento, sits on a small, scrappy, forgotten plot discovered by architect Lorenzo Grifantini after much searching. Grifantini, a director of London-based DOS Architects, designed the 230 sq m house for his family, and was assisted on the interiors by his wife Allegra Figus.

The surrounding buildings are a hotchpotch of flat-roofed cuboids in pale colours. Grifantini created a number of low volumes around an internal courtyard, along with a 12m tall tower to house five bedrooms – all painted a dazzling white. 'There was no need to be extravagant,' he says of the design, 'it blends in with the surroundings.' The shape of courtyard – which holds a swimming pool – was informed by the 790 sq m plot's geometrically irregular boundaries.
The deliberately austere aesthetic is expressed through Grifantini's chosen materials: glass, timber, metal and stone. The living spaces are connected to their small patios via big glazed sliding doors and windows, which have wooden frames. An external canopy of galvanized iron is covered with bamboo, and on the external floors is Leccese, a local stone which is highly porous so absorbs light.

Meanwhile inside, Figus has married traditional artisan elements from Salento (weaving, carpentry, blacksmithery), with contemporary Italian products, such as lighting by Viabizzuno and Campesato's windows and doors.

Grifantini's engineer discovered that the site's deep rock made it impossible to build a standard foundation. 'So we had to build 37 piles,' he explains. As a consequence, the house is raised 1m above ground, which allows natural ventilation from below. The bedroom tower is in line with the nearby church of San Rocco, and its windows have views to the sea. The White Tower follows on from DOS's residential scheme in Ivory Coast's capital, Abidjan, which completed last year.
INFORMATION
dosarchitects.com (opens in new tab)