Take a peak: Karawitz's Maison Marly is a pitch-perfect urban palace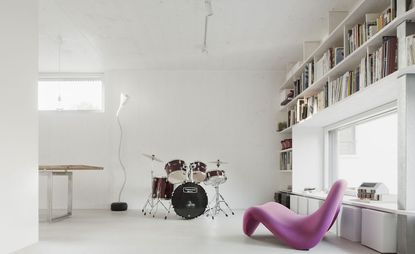 (Image credit: Schnepp Renou)
Louis XIV built the Château de Marly as his 'pleasure palace', an escape from the formality of Versailles five miles south. The neighbourhood of traditional peak-roof houses that eventually sprung up nearby didn't have quite the risqué overtones. But a new Passivhaus has come along to sex up the bedroom community of Marly by subverting the conventions of the residential vernacular.

Maison Marly takes the peaked motif, nudges it off centre and folds it outward like a Tetra Pak. It cleverly skirts local building regulations, too. Guided by strict rules that forbid homes to overlook one another, Milena Karanesheva and Mischa Witzmann of Karawitz, an award-winning Parisian practice lauded for its super-insulated residential architecture, achieved a desired neighbourly link by exposing it instead to the quiet tree-lined street.
Take an interactive tour of Maison Marly

'The residents wanted to create a new feeling of urbanity in this zone, where each house is isolated,' says Karanesheva, originally from Bulgaria (Witzmann is Austrian). 'They wanted to create a connection with their neighbours, to exchange with them.' Lest the arrangement feel too open, they angled the upstairs facade with a vertical crease to redirect views into the garden. Galvanised steel fencing with an ethereal peek-a-boo effect tempers the degree of exposure downstairs.

The weight of the house rests on a deep reinforced-concrete foundation containing a sous-sol entry foyer and guest room. From here, visitors climb to the more public main floor, arranged around a fireplace that heats the entire house. The kitchen and living room are tucked into the side and rear, with long, shallow windows facing the wooded garden. Moving around to the front, the dining room opens with full-height windows to a cantilevered terrace and the street beyond.
The house is clad in pre-oiled grey larch and Galvanised-steel fencing surrounds the house

Three family bedrooms, accessed by a prefabricated-steel staircase, are suitably private but equally bright. Wrapped in whitewashed wood beams, their windows are pitched higher to avoid awkward contact with the neighbours. Six skylights penetrate the roof, giving it all a heavenly glow in daylight.

The fresh look of the pre-oiled grey larch cladding invites curiosity from passersby, yet the slight elevation prevents them from seeing too much. It is not for exhibitionists, after all, just an escape – like the château – from formality.
INFORMATION
For more information, visit the Karawitz website (opens in new tab)