Just like Buddy Holly: DSAI design a Texas music centre that's good at everything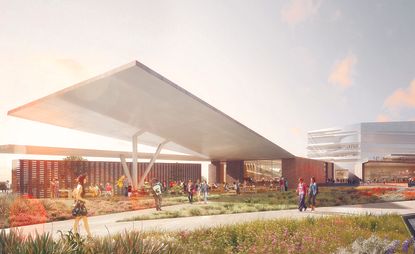 (Image credit: TBC)
When Diamond Schmitt Architects Inc (DSAI) first interviewed for the new Buddy Holly Hall of Performing Arts and Sciences in Lubbock, Texas, the board told principal and future project architect Matthew Lella that they wanted to make the often neglected back stage entrance 'welcoming to performers'.

'I knew then,' says Lella, 'that we were dealing with people who understood the arts and community in a deep way.'

DSAI's architectural response to this directive was a design that expresses both cutting edge culture and Texan hospitality, incorporating disparate artistic practices, stakeholders and spaces into a singular centre.

The birthplace of Buddy Holly (the centre bears his name at the request of an anonymous donor who didn't want a corporate moniker) has always been a musical hub (Dixie Chick Natalie Maines hails from Lubbock and Waylon Jennings was born nearby). But it also boasts a symphony, a ballet and a pro-active, arts education oriented school board. Outside of the touring lifestyle of troupes and rock bands alike, the idea was to create a 'permanent home' for Lubbock's arts community.

'Our goal,' says Lella, 'was nothing less than to design a multi purpose hall that was strong at everything.' He continues, 'The challenge for us was explicit. The symphony might not be there every day, but that doesn't mean we don't want a top tiered concert hall with superb acoustics.'

The hall's main volume is a large prismatic shape, encompassing the main theatre – a flexible space with a moveable floor that can host everything from opera to country and western dances. Low lying structures wrap around it, creating a campus feeling from an aggregate of disparate shapes.

Dynamic spatial choreography animates the centre. Its main entrance, the south-facing exterior of which is protected by a series of vertical concrete fins staggered to allow indoor-outdoor connection via floor to ceiling glazing, ushers patrons into the lobby and up its spectacular spiral staircase. The latter's curvilinear shape is echoed in the balconies of the central theatre.

Performance and rehearsal spaces spill out into public plazas, with a patio restaurant set just outside of the ballet theatre. To punctuate a new civic landmark in the Texan flatlands (besides musicians, Lubbock's other great export is cotton), a light sculpture whimsically wrapped around a mobile phone tower will act as a regional beacon.

When Buddy Holly's widow saw a rendering, says Lella, she loved it, proclaiming, 'that's Buddy's energy rising up into the sky'.
INFORMATION
For more information, visit the Diamond Schmitt Architects Inc website (opens in new tab)