Japanese architecture and the Olympics: pavilions pop up
A family of architectural pavilions by Japanese architects and artists has appeared in the urban cityscape ahead of the Tokyo Olympics, courtesy of Tokyo Metropolitan Government, Arts Council Tokyo and the Watari-um art museum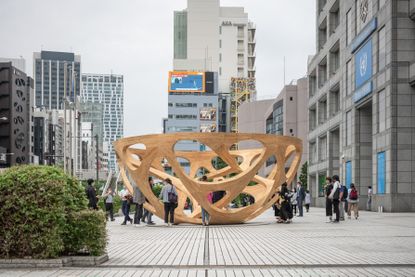 (Image credit: ToLoLo studio)
A white cloud hovering among the trees. A tea house wrapped in grass and charred wood. A curved line of sky-reflecting water flowing through a historic park. These are among nine new architectural pavilions dreamt up by six Japanese architects and three artists, which recently cropped up across the cityscape just ahead of the opening of the Tokyo Olympics. The temporary installations were brought to life through Pavilion Tokyo 2021, a project by Tokyo Metropolitan Government, Arts Council Tokyo and the Watari-um, a contemporary arts museum. These Japanese pavilions include work by creatives such as Terunobu Fujimori, Sou Fujimoto and SANAA.

Describing the concept as a 'treasure hunt', Estuko Watari, Watari-um director and executive committee chair of Pavilion Tokyo, explains: 'It is summer 2021, a year in which the world is changing dramatically during the pandemic. In this same year, these mysterious pavilions, which are hard to imagine existing, have appeared in the city of Tokyo.'

She adds: 'The city has always had such memorable scenes in it. This project aims to create a new story of the city.' Many of the pavilions – displayed until 5 September – are loosely scattered around the new Kengo Kuma-designed National Stadium, the heartbeat of the Tokyo Olympics.
Among them is Go-an, a teahouse created by architect Terunobu Fujimori. Visitors climb through a hole cut into the façade of grass and yakisugi, or charred cedar, a modern nod to the humbling nijiriguchi crawl-through door in traditional tearooms. After visitors have slipped off shoes, ladder-like stairs lead them to the top floor, complete with a washi lantern and direct views of Kuma's wood and plant-packed stadium.

'A tea house requires otherworldly characteristics,' says Fujimori. 'Once you climb up and enter through the narrow and dark crawl-in entrance, you see completely different scenery.'
Meanwhile, two floating Cloud Pavilions – one positioned among the greenery in Yoyogi Park and the other at Takanawa Gateway Station – were created by architect Sou Fujimoto.
Each is a white molecular-like formation of balloons, with three stilt-like legs, tapping into Fujimoto's fascination with clouds: 'It has an exterior but doesn't have walls, yet an inner space exists. Moreover, the three-dimensional inner space is extremely complex and dynamic. Clouds cannot be realised with architecture, yet they make us feel like there is something architectural to them.'
Kazuyo Sejima of SANAA created a serene, clean-lined flow of sky-reflecting water through the traditional grounds of Hamarikyu Gardens, which is fringed with ultra-modern skyscrapers. Other highlights range from artist Yayoi Kusama's Obliteration Room in Shibuya (a white space slowly covered in stickers) to Makoto Aida's two 'castles' made from blue tarpaulin and cardboard, materials often associated in Japan with natural disaster emergencies. Together, the pavilions add up to a layer of architectural intrigue across the urban fabric, heralding the Tokyo Olympics.
INFORMATION
watari-um (opens in new tab)