Low lines: Cristián Hrdalo designs a concrete and Corten Chilean retreat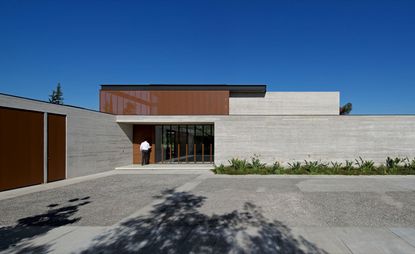 (Image credit: Nico Saieh)
Chilean architectural firm Hrdalo, founded in 2005 and headed by Cristián Hrdalo, already has several idyllic residential projects under its belt. Developing homes for beach, countryside and mountain locations, the firm prides itself on envisioning experimental programs and working with clients who are eager to push the architectural envelope.
The newest offering from Hrdalo is the Bulcke House in Las Araucarias de Linderos, a golf club 30km south of the Chilean capital of Santiago. The home was conceived for a Belgian couple who, having lived in Chile for years, opted to return to Europe; their daughter and her small family decided to remain, so the couple embarked on the creation of a second house in the country, which would be used during family visits.
Take an interactive tour of Bulcke House
Situated on a plot where two of the corners are facing the picturesque golf course, the refined concrete home was designed to frame the views of its surroundings and to bring natural light into even the most sheltered parts of the property. Bulcke House is composed of Corten steel, poured in-situ concrete, incast wood panelling and polished concrete floors, the latter chosen to offset the warmth of the walnut furniture and doors.
The house also features a series of inner courtyards and a generous, private terrace, which acts as the home's in-between space, separating the interior and exterior areas. 'It acts as a transitional area that invites you out,' Hrdalo explains. 'It was designed to be used during winter, hot days and chilly summer nights, all possible due to the flexibility provided by the home's sliding shutters.'
INFORMATION
For more information, visit Hrdalo's website (opens in new tab)
Photography: Nico Saieh