Anonymous Architects' House in Trees brings a new slant to Echo Park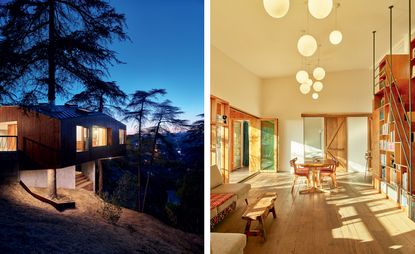 (Image credit: Spencer Lowell)
Los Angeles, it seems, is rediscovering its soul,' says Simon Storey of Anonymous Architects, which featured in our Architects' Directory 2014. He is referring to the sea change in architectural preservation in LA, but also to the new construction throughout the city, much of which is both mindful of space and elegant in its minimalist design. A case in point is the aptly titled Eel's Nest, Storey's much-talked-about home and studio in Echo Park, where he squeezed 960 sq ft of living space into a hemmed-in urban plot of only 780 sq ft.

A native of New Zealand, Storey has always had a fascination with LA. He moved there in 2000 to attend graduate school at SCI-Arc, and immediately began reimagining the city's rugged topography with better-designed spaces. From homes to official buildings, the steeper the hilltop, it seems, the better it is for Storey to build on it.
House in Trees, his latest project in Echo Park, sits on one of the city's taller hilltops. 'Like most of the lots I work on,' he says, 'this is pretty steep. A large part of the design is finding the right balance.' As you ascend the driveway at a 30-degree angle, everything still feels open and inviting. The city is a block away, yet this spot feels otherworldly, close to nature.

Storey's clients are friends of friends. Joanie Ellen, an actress, artist and designer, is from New York. Her husband, Alexander Klein, is a philosopher from New Jersey. Both came to LA six years ago when Klein began teaching in the philosophy department of California State University, Long Beach.

'Joanie and Alex came to the same realisation that a lot of my clients come to in LA,' says Storey. 'They can spend three-quarters of a million dollars on a house that is woefully inadequate on so many levels; or, for the same amount of money, they can start from scratch and get precisely what they want. The hard part, of course, is finding that vacant plot of land. They don't seem to exist any more in most parts of town, but Joanie and Alex found this amazing plot just up the hill from my home and studio.'

When you enter the house (and there are several ways in), one of the first things you notice is that the roof surfaces slope in a number of different directions; as a result, you can see the ceiling adjusting to a different pitch. 'The concept,' says Storey, 'is that you're comfortable sitting under a tree, hence the name.'

The house also has a tree running through the middle of one of the rooms (fittingly, the children's one, which is lined with treehouse bunk beds). 'It was a simple decision,' Storey says. 'It was literally cut a tree down or work it into the design. This lot had all of these trees growing on the hilltop and we wanted to preserve as many as possible.'

An effortless flow and the indoor-outdoor comfort level are accentuated in Storey's design: rooms bleed into each other but can also be sectioned off quite easily. There are custom bookshelves that form a staircase you can crawl up to read on. The living spaces are compact and make good use of space; you don't feel cramped. There is natural light everywhere, as well as views shrouded in just the right amount of foliage.
'The next stage of the house,' Ellen says, 'is to start on the landscape architecture. We have an outdoor room downstairs, too, with a barbecue that we're going to set up overlooking the city.'

This almost-unheard-of hilltop plot had been vacant for a long time because the original owners had wanted to sell off the 1.5 acre plot to a single buyer. Ellen had looked at the hilltop over the years, but the large parcel of land was expensive to build on as a whole. The couple were eventually able to buy half an acre, while some fellow New Yorkers bought the remaining acre, and Storey got to work.

The couple had spent time with the architect beforehand, looking at houses, just to give them a sense of what was out there. 'We realised it was the land we were responding to, not the houses,' says Ellen. 'In fact, my dogs introduced me to a park around the corner from here, and that is how we found this spot. I never thought we would build something out here. But even before we broke ground, this was already one of my favourite blocks in the city.'

As originally featured in the October 2016 issue of Wallpaper* (W*211)
INFORMATION
For more information, visit the Anonymous Architects website (opens in new tab)