Bridging the gap: W* meets French engineer and architect Marc Mimram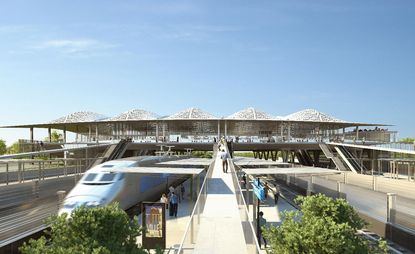 (Image credit: TBC)
Marc Mimram is a qualified engineer and architect who is passionate about infrastructure. Based in Paris, his bridges and buildings can be found across Europe and beyond. This Thursday (14 July), Mimram will speak at the event 'Beyond the Bridge', which is part of the V&A's Engineering Season. Preceding his appearance, Wallpaper* caught up with Mimram for a quickfire insight into his ethos and design process.

W*: As both an architect and engineer, how do you approach building projects?
Marc Mimram: I started as an engineer for architects, working with people like Renzo Piano and Rem Koolhaas. But for me there is no difference between architecture and engineering; a building is a building, gravity is gravity. Architecture is the art of transforming the world.

Why are bridges so important to you?
Bridges are not only a functional connection, they are also a place, a public space. When I began working, bridges came out of catalogues. Now we try to make every bridge different, to take into account the geography and the city.

How do you combine the connecting function of a bridge with place-making?
The most important reference to me is London's Borough Market, because it's under London Bridge, so the bridge is the roof. For the Hassan II Bridge in Morocco, we used the shadow of the deck of the road as the roof for a free public space below. Local people use it as a playground, and that's OK for me.

What do you have on the drawing board?
Under construction is our Panorama building on Paris's Left Bank, spanning 58m of railway tracks. The infrastructure is the railway, cutting the city in two parts; so the building acts as a bridge or connection to either side, like the Ponte Vecchio in Florence.

What points will you raise during 'Beyond the Bridge'?
In the past, the representation of power was through the building. Now it's through public space, because everyone shares it, and it's where we can be together. It's the place of democracy. Infrastructure is part of that, and that's incredible for me. I believe that infrastructure can be part of the generous structure in the world.
The book 'Marc Mimram: Architecture and Structure' will be launched at the V&A event, and will be available at RIBA Bookshops.
INFORMATION
'Beyond the Bridge' takes place on 14 July from 6pm – 10pm. For more information, visit the V&A website (opens in new tab) and Marc Mimram's website (opens in new tab)
ADDRESS
The Lydia & Manfred Gorvy Lecture Theatre
V&A
Cromwell Road
London SW7 2RL
VIEW GOOGLE MAPS (opens in new tab)