Cabin class: lodges, chalets and other architecture from the hinterland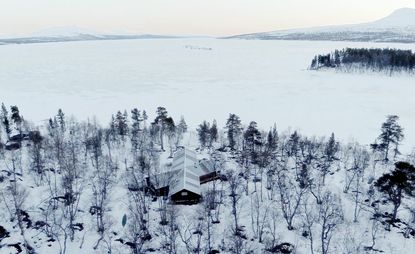 (Image credit: Frontal Media)
The Hinterland in the title of a new book from Gestalten is both physical and existential. The former, because the cabins, tree houses and shelters it surveys are overwhelmingly set in areas of only sparsely peopled liminality – mountains, woodland, waterfronts, gardens. These are getaways in the purest sense of the word, and therein lies the connection to the latter; representing a mindset beyond – or perhaps, before – that of 21st century living. Reconnecting to nature and eschewing materialism in favour of ascetic functionality. 'Rewilding' ourselves, to borrow a topical contemporary phrase.

The sub-title of Cabins, love-shacks and other hide-outs is snappy to the point of disingenuity. Chimerical cutesiness abounds in the tree-houses – some robust, many precariously spindly, others rendered as actual nests – but, as you'd expect in a tome from the stalwart German arts publisher, these are structures marked by carefully-considered aesthetics and keen architectural nuance.
Further, this is no simple progression of the recent proliferation in micro living and pod homes; these are fully-realised marvels rather than modular chuck-ups (even those designed to function as hiking shelters, saunas – lots of these projects are Scandinavian – or curios, rather than full-blown residences). Take Permica Architects' 'Fortress on the Frontier' in Slovenia's Julian Alps, an imposing hiking cabin grafted onto the remains of a First World War military bunker. Or Raumlaborberlin's dystopian, corrugated-steel-coated hot house in Gotheburg's industrial harbour, appearing as rusting behemoth on the outside, but coolly serene on the interior thanks to feathery slattings of light larch wood (and all the Swedes).

Other projects are more ambitious. Casa Vi is a mountain house located just outside of the town of Piateda in the Orobic Alps, 1,000m above sea level. Designed by EV+A Lab's Alfredo Vanotti, the structure was once a concrete stable owned by the family of his partner, Laura. Together, they created a home that drew on nostalgia for Laura's childhood, realised as an extensive, minimalist and light-flooded structure, with a minimum of interior space delineation and featuring built-in furniture and astonishing vistas. (Though, the architect says, it's more traditional in ethos than it looks – 'Landscape influences my design,' Vanotti states in the book, 'not the other way around.')
From there, we're introduced to Leo Qvarsebo Arkitekt's sloping tower in central Sweden's Dalarna county; the neo-rustic charms of a forested home for a photographer in Hungary, by T2.A Architects; a pair of 29 sq m cabins on the Kiwi coast by Cheshire architects; multi-build communes, tree-top villages and children's dens. The list goes on.

The builds are illustrated with spare, dramatic shots of rugged outcrops and striking oceans of snowy wilderness (the photography in the book, it must be noted, is all wonderful), but the variety of underlying philosophies – as well as the outré details found within each project – make for endlessly intriguing viewing. The geographic spread, too, is notable. Taken singularly, any one of these bolt holes would be a beguiling idiosyncrasy. Together, they're a hotbed of aspirational food-for-thought – enough to persuade any seasoned city rat to consider a simpler life in the wild.
INFORMATION
The Hinterland: Cabins, Love Shacks and Other Hide-outs, €39.90, published by Gestalten. For more information, visit the website (opens in new tab)