Hacker Architects escapes to the desert for its latest Oregon retreat
A composition of box volumes and opaque and transparent surfaces form a chic family retreat in the desert landscape of Central Oregon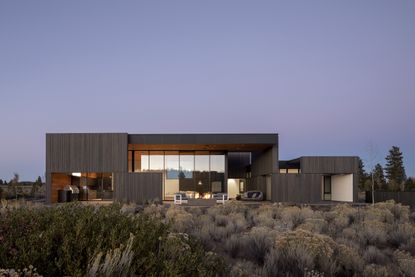 (Image credit: Jeremy Bittermann/JBSA)
'It has this feeling that you're in a place that's brand new,' principle designer Corey Martin says of Central Oregon, the location for his Portland-based firm Hacker Architects' recent residential getaway project. It's surprising to think of a place in the middle of an American state (even if wildly different geographically to Portland, all lush and green and rolling to the west of the Cascades, dryer and flatter to the east) as 'brand new'; though comparatively, and geologically, it is, but that's part of the magic of the designer's architectural approach. Rather than start with the basic brief – four bedrooms, for a couple and their extended family – Martin and his team, Nic Smith and Jeff Ernst, started with the landscape – and its ideas.

'The building itself tries to edit and frame and take the experience of the landscape visually apart when you're inside it,' he continues. The form starts with a basic box whose elements become articulated and separated and reunited with long swaths of cedar siding. These opaque surfaces work in concert with massive open walls of windows divided only by the thinnest of frames, and smaller apertures, all of which stack together to create a rhythm of constant enclosure and reveal.
Both exterior and interior walls are made out of cedar, so as to promote both a visual continuity and a sense of tactility, and the only other colors are white and black. The architecture is in service of looking – and in particular, looking outward. 'You're getting forced to look at the sky, and you're getting layering that lets you consider all these pieces of the landscape at different times, at different qualities of light,' Martin says.

'It's got this freshness in quality of light and smells,' Martin continues, describing the relative youth of the local volcanoes. And that's the conceptual heart of this project. It's not about finding what you thought you were looking for; it's about what you end up seeing.
INFORMATION
Receive our daily digest of inspiration, escapism and design stories from around the world direct to your inbox