Golden towers: Lisa Garriss brings high design to Vancouver's Metrotown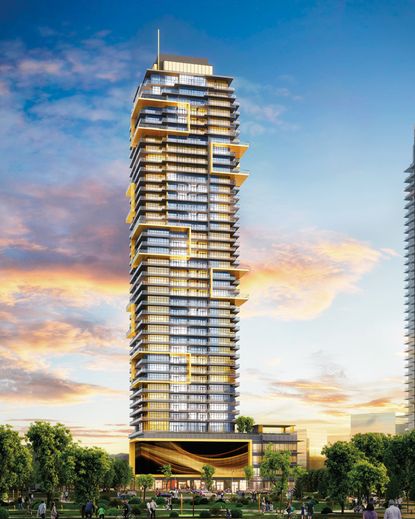 (Image credit: Press)
A shimmering new residential development is bringing high design to Metrotown, a rapidly growing area – buoyed by Canada's second largest shopping mall and rapid transit hubs – in the Vancouver suburb of Burnaby. The sleepy Kingsway corridor area, full of ageing strip malls, is enjoying a wave of new high-rise development thanks in part to Asian real estate investors.

Echoing a trend in downtown Vancouver that has seen local developers bring in international talent – for projects ranging from Norman Foster's Jameson House (opens in new tab) to Ole Scheeren's design for a new tower in Coal Harbour – Rize Alliance (opens in new tab) is launching Gold House. The two 40-storey tower, mixed-use development (designed by local firm Chris Dikeakos Architects (opens in new tab)) is not only bringing much needed density to the Kingsway corridor, but also internationally known interior designer Lisa Garriss of HBA.

Celebrated primarily for her globe hopping hotel design – from the Armani hotel in Milan, to the Karma Resort in Bali, and other projects in Dubai, Miami and Goa – Garriss says she always 'approaches each project in accordance with its environment'.

Based in LA, Garriss was impressed by Vancouver's natural beauty and lush greenery. Rather than compete with the scenery, she kept interior palettes in rich neutrals that would 'draw in light' from the outside.

Noting that 'in Los Angeles it's all about shelter from the sun', in Vancouver her design approach was informed by the need to maximise daylight in a northern rainforest. While the gold theme is an important one to the project, Garriss expresses it subtly, through lighting fixtures and gold hued fabrics.

More dramatic gestures are saved for the lobby, where the 40 ft high ceiling is illuminated by large rectangular gold lanterns and flanked by a display wall of golden, curved metal panels that read like Gehry-esque sculpture.