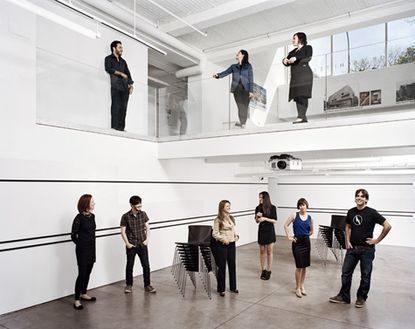 (Image credit: TBC)
Gisele Gass grew up between Brazil and Israel and last left Brazil seven years ago to work for graphic designer Bruce Mau in Toronto. She then moved to New York to work for SOM, and currently working as an architect at Populous designing the Arena das Dunas Stadium, in Natal for the 2014 World Cup.
A football stadium in Brazil - that must be a dream project?
Yes. What I like most about it is to be working on a building that touches the heart of every single Brazilian. Everyone is passionate about soccer! While growing up in Rio, my father would take me to watch Flamengo play in Maracanã Stadium. The Brazilian press has called our design for Natal the 'Greenest Stadium in the world' as it is low energy, has rain water harvesting and on-site retention and filtration, grey water reuse for WCs while 80% of the building uses natural ventilation, waterless urinals, FSC timber and possibly wind generation. Since Brazil was ruled by a military dictatorship for 20 years and has had major economical issues since then, we haven't seen many projects of this magnitude being built.
Why did you pick New York as a place to settle?
After graduating as an architect and urban planner in Brazil and working in Toronto with Bruce Mau, the world seemed wide open. I felt no reason to go back to what I knew. Growing up between Brazil and Israel, and having lived in four countries so far, I never felt I belonged to a specific place. NY has that je ne sais quoi. One can be in any part of the world within a minute's walk.
What things do you miss most about Brazil?
I miss people's warmth, the non-aggression, the lack of stress and the easy going pace. I speak five languages and I can guarantee that Brazilian music has the most amazing lyrics ever created. Whenever I miss Brazil, I put some Brazilian music on and it transports me there. And I miss the beaches, oh the beaches.
How do you think being Brazilian has shaped your aesthetic?
Growing up between the states of Minas Gerais and Rio de Janeiro (where respectively my father and mother were born to Jewish immigrants), I experienced both rural and cosmopolitan Brazil. In Rio, I grew up in the Jewish community, known for its affluence. I've spent lots of time in friends' fancy block-sized appartments facing the beach. I remember visiting a friend's weekend-house that had a bridge passing over a lake between the living room and the bedrooms. That's when, aged nine, I started to draw imaginary floor plans everyday when I was back from school. But I also like Rio's Centro (downtown) and its Saara region, around Rua da Alfândega a pedestrian-friendly street filled with exotic merchandise where working class cariocas shop for thrift fashion, textiles and speciality materials. I love it so much that to this day I look for similar places no matter which city I visit. In NY, Chinatown is probably my little Saara.
Emma O'Kelly is a contributing editor at Wallpaper*. She joined the magazine on issue 4 as news editor and since since then has worked in full and part time roles across many editorial departments. She is a freelance journalist based in London and works for a range of titles from Condé Nast Traveller to The Telegraph. She is currently working on a book about Scandinavian sauna culture and is renovating a mid century house in the Italian Lakes.