Smithsonian exhibition 'Futures' explores 'mind-expanding possibilities'
'Futures', the new exhibition at the Smithsonian-owned Arts + Industries Building in Washington, DC, explores opinions, possibilities, and opportunities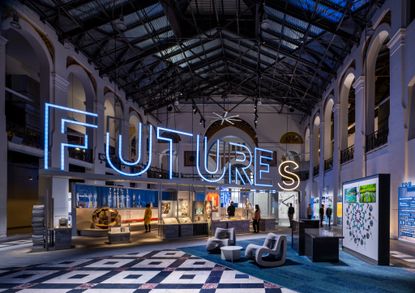 (Image credit: Ron Blunt)
'This is the last untapped public space on the national mall, which is where we collectively as a country decide to tell the stories that are important to us,' says Rachel Goslins, director of the Smithsonian-owned Arts + Industries Building, in Washington, DC, currently open for the first time in decades and soon to undergo a major renovation and permanent reopening.
She's standing next to an interactive sculpture by Suchi Reddy of Reddymade Architecture and Design, called me + you, which transforms spoken language into a colour and light show that spreads along the installation's LED elements. And she's describing the impetus behind the recent opening of the show 'Futures', featuring a collection of objects, artwork, ideas, and historical moments that begin to articulate collective opinions, possibilities, and opportunities.
The show is part of the Smithsonian's institution-wide 175th anniversary celebrations, and part of a longstanding effort to begin to find a permanent use for this cross-shaped structure. For the next year, four halls will exhibit pieces such as Australian artist Tega Brain's Coin-Operated Wetland, which links working washing machines to a micro-ecosystem; an Isamu Noguchi-designed baby monitor made out of Bakelite (and installed next to a 1909 Bakelizer that produced the world's first synthetic plastic); an AI-powered algae farm developed by Hypergiant Industries; and a genderless virtual voice called Q, produced by Copenhagen Pride, Equal AI, Koalition, Interactive, and Thirty Sounds Good.
What links the disparate projects together is an open attitude of 'multiplicity', as curator-at-large Glenn Adamson says, woven together in sensitively rendered and ultimately optimistic exhibition design undertaken by David Rockwell and his firm Rockwell Group. 'How do you take a set of values and ideas, respect the landmark status of the building, and start to create a language that would be a great armature for all these pieces?' Rockwell asks.
The answer is in a cohesive visual approach that marries Rockwell's theatre-inflected approach to design, where pockets of intimacy and interactivity lead visitors through the halls and their four frames – Futures Past, Futures That Work, Futures That Unite, and Futures that Inspire – while offering moments of respite, pause, engagement, and more. Everything ties back to his interest in theatre as a moment in space and time that can change someone's mind forever. 'This fits into my lifelong investigation of things that are permanent versus things that are temporary – and the inverse relationship of things that might last an hour but stay with you the rest of your life,' says Rockwell.
Adamson hopes for exactly that. He points out how many children, historically, have visited the Smithsonian's National Air and Space Museum and been inspired, 30 years later, to become working astronauts. 'The future's going to be decided by people who are kids right now,' he says. He hopes they come to 'Futures', to see not information – which they can, of course, get on their phones – but 'thought-provoking, mind-expanding possibilities'.
INFORMATION
'Futures', until 6 July 2022