Cultural powerhouse: Flores Prats and Duch-Pizá overhaul Casal Balaguer, Palma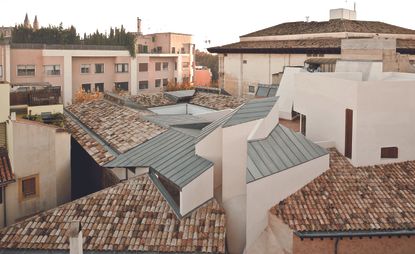 (Image credit: Adrià Goula)
The past is always present and the future, before our eyes. Nowhere is this more true than in the careful refurbishment, completed over two decades, of the Casal Balaguer Cultural Centre, by Barcelona-based Flores Prats Architects with Duch-Pizá.

Set to open at the end of the year, the centre – a grand aristocratic house built in the 14th century, renovated in the 16th and enlarged in the 18th – sits in the historical heart of Palma, capital of the Spanish island of Mallorca.

The architects explicitly sampled the various historical periods in which the building was altered, grafting new onto old. Reinforcing and synthesising the historical character of the architecture with modern geometries, the design touches the entire building, but emphasises 'moments of greater intensity at the intersection of its different phases'. Newly serrated sections of the roofline augment the original terracotta tiling, for example, and irregularly shaped and oriented windows are spliced together with stone arches and thick exposed wooden roof beams.

'We are working with all of the visual culture that we've inherited at once, without granting one period priority over another,' says Eva Prats. 'Acknowledging the accumulation of history in an existing building requires discipline, acceptance of the ghost that manifests itself in the building as a physical quality imbued in things by time.'

The centre will host the city's fine arts association and gallery, a museum devoted to the house itself, a public library and a roof terrace. The architects re-activated unused rooms and redesigned circulation over the building's complex plan, partly by drawing daylight into the lower levels via 'periscopes' set into the roof. These illuminate each space differently, marking one's passage through the house.

The design preserved not just the building's material history, but also a sense of 'mystery' engendered by the organic process of altering it over time. The architects saw it not as a series of rooms but as a constellation of 'chambers that contain time'.
Receive our daily digest of inspiration, escapism and design stories from around the world direct to your inbox