This modern farmhouse in Japan is a low-tech masterpiece
Farm House of Wind and Fire by Takeshi Ikeuchi's Studio Colife3 brings together nature, the built environment, and the architectural traditions of Japan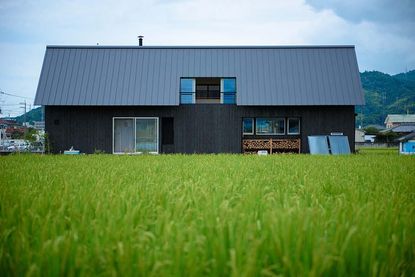 (Image credit: Shuhei Miyahata)
Japanese architect Takeshi Ikeuchi's modern farmhouse project for a young couple in Matsuyama, Japan, makes the most of the nearby environment and architectural traditions of the area. Having spent nine years working at Hiroshi Sambuichi's studio has clearly had a profound impact on Ikeuchi's approach to architecture. In true Sambuichi fashion, the site and surrounding architecture were painstakingly researched in order to help determine the overall placement of the building – named the Farm House of Wind and Fire.
Openings in the building's west and east façades allow the gentle summer breeze to flow freely to cool the interior naturally, while louvres keep out the hot sun. This way, even in winter, the cold northern wind is effectively blocked, while still allowing for natural ventilation.
Modern farmhouse with low-tech approach
Constructed on a former rice field, the house is clad in 30mm-thick, local cedar wood that purposely had its surface burnt in a process known as yakisugi (meaning 'burnt cedar'). The charred layer acts as a natural protective skin and renders the need for painting or other treatments obsolete, simplifying the construction process, but also the future maintenance of the house. A simple black metal roof fits like an elegant hat over the building and Ikeuchi has done away with the need for obtrusive gutters and drainpipes by placing a line of heavy gravel below the eaves for water drainage.
Inside, expensive, high-tech finishings are kept to a minimum, placing a focus instead on natural materials, such as untreated cedar flooring and shikkui plaster walls and ceilings. The curved plaster ceiling adds a beautiful and organic touch to the simple interior, with a hint at Ikeuchi's past experience with Naoshima Hall, gained when he was working at Sambuichi's studio.
Surrounded by rice fields, Ikeuchi's modern farmhouse shows a new direction for the vernacular architecture of the rural community in Matsuyama.
INFORMATION
colife3.com