Exhibit Columbus 2019 explores architecture and community in Indiana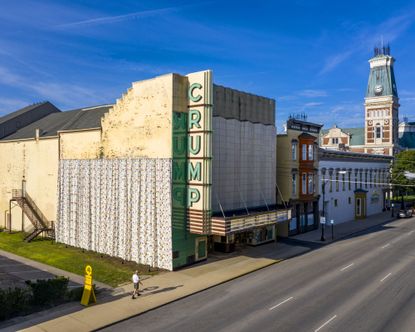 (Image credit: Hadley Fruits)
Columbus, Indiana bills itself as 'Unexpected, Unforgettable'. The slogan is fitting. This small town of approximately 50,000 people is the site of Exhibit Columbus – a biennial event that draws designers, architects and tourists from around the world. The exhibition highlights the role of design, art and vision in creating a vibrant and equitable urban environment through 18 site-responsive outdoor installations located throughout downtown.

Five J. Irwin and Xenia S. Miller Prize installations were paired with different sites, including 'XX' at AT&T Facility by Agency Landscape + Planning, 'Soft Civic' at Columbus City Hall by Bryony Roberts Studio, 'Untitled' at Cleo Roberts Memorial Plaza by Frida Escobedo Studio (opens in new tab), 'Corn/Meal' at Central Middle School by MASS Design Group, and 'Into the Hedge' at Bartholomew County Courthouse Lawn by SO-IL. Another five pieces comprise the event's Washington Street Civic Projects, and six are work by winners of the University Design Research Fellowships. High school children participate through a dedicated show, while the fair's environmental design and wayfinding serves as its 18th installation.

The 2019 edition of Exhibit Columbus just launched with a two-day opening weekend focused on the theme 'Good Design and the Community'. The 1986 exhibition 'Good Design and the Community: Columbus Indiana', created to commemorate the installation of Columbus business leader and philanthropist J. Irwin Miller into the National Building Hall of Fame in Washington, D.C. served as inspiration.
'Exhibit Columbus is more than an architectural biennial', explained Richard McCoy, Executive Director of Landmark Columbus Foundation. 'It is a chance for Columbus to bring its traditions and values into the global design dialogue. Design and community are central pillars of our collective identity, and it gives us tremendous pride to demonstrate how a shared investment in design can improve lives.'

The opening weekend also featured a series of conversations with designers, academics, architects, artists, graphic designers and community activists. Topics ranged from heritage in design and looking towards the future and new technologies (on the first day), to creating new spaces for civic engagement and interpretation, and exploring the relationship between architecture, environment and human interaction (on the second day).

Exhibit Columbus is free and open to the public. The installations will remain in place until 1 December, 2019.
INFORMATION
exhibitcolumbus.org (opens in new tab)