Eileen Gray's renovated E-1027 villa reopens in Côte d'Azur
Eileen Gray's iconic residence, E-1027, completes extensive renovation and throws open its doors in France's Côte d'Azur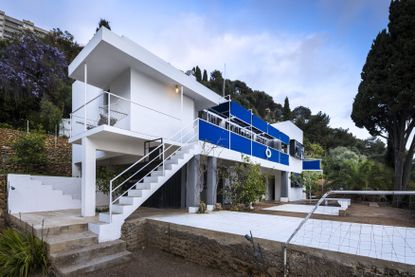 (Image credit: Manuel Bougot)
Wallpaper* Newsletter
Receive our daily digest of inspiration, escapism and design stories from around the world direct to your inbox
Thank you for signing up to Wallpaper. You will receive a verification email shortly.
There was a problem. Please refresh the page and try again.
Villa E-1027 in Roquebrune-Cap-Martin on the French Riviera, an emblem of modernist architecture by Eileen Gray, has just reopened its doors following extensive restoration works. The two-storey house, which was completed in 1929, is a testimony to the vision, flair and expertise of the Irish furniture designer and architect. Contributing to its uniqueness are the sweeping views over the Bay of Monaco, which influenced the site's nautical references, from the iconic Transat lounger, based on the classic ocean-liner deckchair, to the blue-hued rugs and the balcony with its azure canvas awnings.

The villa is further defined by a sense of personal attachment and artistic conflict. The most symbolic is its name, E-1027 (to be pronounced 'e-ten-two-seven'). 'E' stands for 'Eileen', followed by '10' for 'J' (representing 'Jean'), then '2' for 'B' ('Badovici') and finally '7' for the 'G' in 'Gray'. Jean Badovici was a Romanian architect, Gray's then-partner and the owner of the villa. According to Gray, he collaborated with her on the site's general plan.

In the late 1930s, several years after she had left the house, Le Corbusier came and stayed there on Badovici's invitation and started to paint some of its walls. Upon discovering his mainly primary-coloured murals, which contrast Gray's subtle palette, she proclaimed that he had 'defaced' her work. After the passing of Badovici, the house was sold to new owners and in the next years it went through a series of dramas, including the selling of its furniture, being taken over by squatters and even a murder. The emptied and damaged property was left derelict in the 1980s.
In 2004, a coalition of cultural organizations in the region launched a painstaking renovation of the house's structure, which was made of reinforced concrete, hollow brick and rubble stone. Ten years later, the Cap Moderne association was founded in order to restore the legacy of both Gray and Le Corbusier on site in its entirety – including art, architecture, furniture and fittings.

According to president Michael Likierman, the filming of 'The Price of Desire', an Irish movie by Mary McGuckian on the relationship of Gray and Le Corbusier, triggered a surge in demand and research around Gray's pieces, from built-in and free-standing furniture to rugs and lamps. The house's previous abandoned state led to her original work being dispersed to private collectors and museums all around the world, and when the time came to implement the restoration, it was not realistic to try to buy everything back. Her Dragons armchair (1917-1919), for example, sold for an astronomical amount – 21,905,000 € - at the auction of Yves Saint Laurent and Pierre Bergé's collection at Christie's in 2009. It was decided to make careful replicas instead.

Apart from the originals by Gray, many of which were preserved and accessible through museums, there was an array of resources available that offered detail to help with the reproductions. They included photographs, drawings and notes by the architect herself, which were published in French magazine l'Architecture Vivante, which was edited at the time by Badovici.
Now, each piece, including her Bibendum and Nonconformist armchairs and the E-1027 table, has been reproduced faithfully to the original design, materials and finishes, built by the finest artisans. A letter box, originally created by Gray through the adaptation of a simple leather case, was fabricated by Hermes' craftsman. The silk and cotton tweed-like curtain fabric was woven especially according to the 1920s specifications by Ute Huber-Leierer of the University of Vienna. Porcelain electric switches were manufactured in Limoges; celluloid lines the shelves; and polished aluminium – a source of freshness, according to Gray – is used to clad the bathtub front panel, reflecting the light.

All the modular or transformable details, such as foldable tables and rotating drawers, make this amazingly well-organized 120 sq m vacation house, a fascinating, dynamic piece of architecture. Adjustable lamps go up and down. The wooden shutters slide on a rail. The Satellite mirror piece interacts with views of the outdoors.

Ingenious, yet playful and elegant, such touches revive the sense of the warmth and intimacy that Gray favoured over cold functionalism. 'I like the balance, pureness and precision of Gray's work. And we can tell that her design is in rapport with human beings,' says Likerman. For her it was important that E-1027's owner and their guests felt comfortable, free and independent in every corner of the villa. With this renovation, Eileen Gray's human approach and spirit has come back to life, 45 years from her death.
INFORMATION
capmoderne.com
Receive our daily digest of inspiration, escapism and design stories from around the world direct to your inbox
Minako Norimatsu is a Japanese journalist and consultant based in Paris. Extremely curious about everything creative, her field ranges from fashion to art, dance, hospitality and travel. She has interviewed many Japanese fashion designers and artists for Wallpaper*, as well as non-Japanese creatives whose inspirations are drawn from Japan.