London Design District's D2 building dazzles in iridescent 'dichroic fins'
Design District's D2 building by Mole Architects is now open for business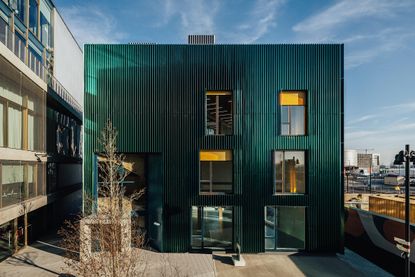 (Image credit: Taran Wilkhu )
London's Design District, a permanent, purpose-built 'creative quarter' promising affordable studio space, co-working and more, was delayed by the Covid-19 pandemic and opened with many companies deeply confused about how much and what kind of permanent space they needed. The timing could have been better. And yet, almost two years after its launch, 92 per cent of the Design District's available space has been let. The District's fundamental proposition – that there was a desperate need in the capital for high-quality but affordable studio space that could accommodate modelling and making and not just MacBook stations, and that creative companies preferred to cluster and create a collective hum – has been proved sound.
Design District D2 building by Mole Architects
Not all of the district's 16 buildings, designed by eight different practices and set in a choreographed jumble a minute's walk from North Greenwich station on Greenwich Peninsula, were complete at launch. Amongst the slower ones was the second building from Cambridge-based Mole Architects. It's now open and fully occupied and a useful case study of how and where the Design District has succeeded. Tagged D2, the new building is a 580 sq m rhomboid clad in iridescent 'dichroic fins' – flickering turquoise folded aluminium sheets. And while other practices birthed non but near identical twins at Design District, D2 is a stark contrast to Mole's other building on site, C2, a heavy and imposing ziggurat in weathered Corten steel. D2 is smaller and lighter on its feet, though both buildings nod to Greenwich Peninsula's history as the home of what was Europe's largest gasworks.
Despite the contrast in effect, both buildings were largely constructed using cross-laminated timber and Glulam, a wood-based alternative to structural steel and concrete, left largely exposed. D2 is naturally ventilated, while external blinds on the windows reduce solar gain and walls have been lined with phase-change material that absorbs heat when things get sticky. As Mole Architects founder Meredith Bowles says, the mission here, as with much of the practice's work, is to avoid using concrete while replicating some of its useful thermal mass, the ability to store heat when it gets too hot and release it when it gets temperatures dip.
The buildings, Bowles says, are essentially a contemporary, more organic update of the reimagined Victorian industrial buildings, beloved of creative companies for their high ceilings and air of utilitarian purpose, with timber replacing exposed brick and raw concrete.
'Making timber buildings is a gift to those that live or work in them,' says Bowles. 'Humans have a natural affinity with timber and the warmth that it conveys. We've left quite a lot of timber exposed, as well as each space having fantastic large openings to the best views. The reflected light from the dichroic fins into the interiors was actually an unintended surprise, but we love it.'
The D2 building houses five workspaces over three floors, occupied by just the kind of interconnected creative mixed bag the Design District was determined to attract. On the ground floor, Wizard Works is producing its cult cycle bags while the upper floors house equally cultish sneaker upcycler Helen Kirkum, creative agency Fford and, in the top floor studio space, Storytellers London, the commercial arm of The Photography Foundation, which offers programmes to help less advantaged young people pursue careers in photography.
'I love our building, the materials and colours are gorgeous, and I love that it was built with sustainability in mind,' says Kirkham. 'We love the connectivity of the Design District and it is great to be surrounded by like-minded entrepreneurs who are working towards putting more good into the world
INFORMATION