A concrete and steel house in California designed by Faulkner Architects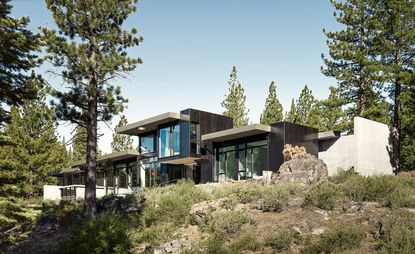 (Image credit: Joe Fletcher Photography)
Faulkner architects has designed a family retreat for a hard-working AIDS researcher based in New York City. The home, which is immersed in the natural landscape of Truckee in California, intends to bring restorative calm upon its inhabitants, prioritising closeness with nature and leaving raw materials exposed.

'Don't hurt the boulders', said the client, who wanted the house to be gentle on its environment and respectful as possible to its site – a former flood field on the edge of an evergreen forest that meets with a spring-fed creek at the base of a dormant volcano. Consequently, the home cantilevers over boulders and trees grow close to its boundaries. Its exterior is surrounded by small patios and a pebble-lined pool encouraging an easy outdoor existence upon its inhabitants.

The interior spaces are layered and almost modular, connecting large private spaces with smaller communal areas – the house prioritises privacy for its inhabitants, a multi-generational family, yet it is also democratic – each member of the client's family contributed ideas for the design of the house.
Take an interactive tour of Creek House

The circulation of the plan allows movement from quieter darker spaces, to lighter exposed moments such as the spaces where floor to ceiling glazing opens up views of dark green evergreen trees or the surrounding rocky landscape. The architects were inspired by Junichiro Tanizaki's essay 'In Praise of Shadow' with the architectural progression between dark and light.

Exposed and often raw materials include steel, rift-sawn oak, bluestone and white gypsum. The whole house pivots on a large concrete wall, that extends beyond the walls of the house, out into the landscape. The device provides the client with privacy desired as well as shading the house and the exterior spaces from the sun.
Around the exterior of the house concrete platforms and a pebble-lined pool encourage outdoor living. The architects were inspired by a pool they had seen in Spain that was fed by rainwater through a channel that could be opened and closed.